Radius Provides Free Client Access To Its Data Consortium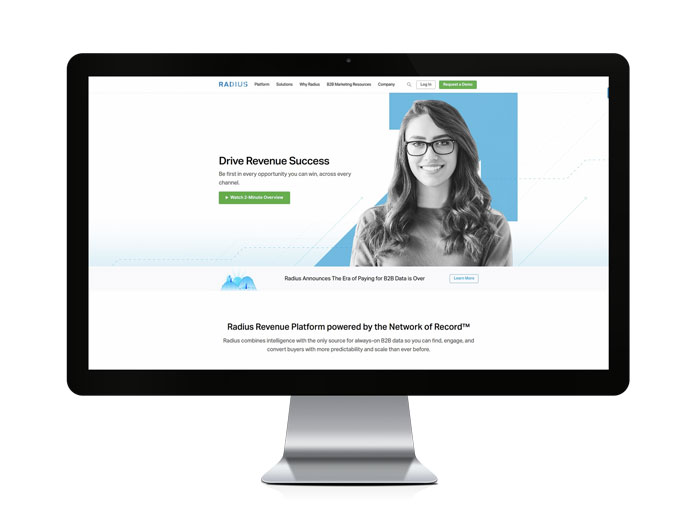 Radius announced it is making its B2B contact and account data consortium, The Network of Record, available to all customers of the Radius Revenue Platform, its software platform. Prior to the announcement, Radius clients were charged for data based on their needs. Now, the data is part of the full subscription package.
The Network of Record is a consortium of aggregated and anonymized data—contributed by Radius clients through their CRM and marketing automation platforms—that syncs every 30 minutes and matches about 525,000 records per hour, the company said. A total of 2.3 billion records are aggregated from numerous data sources every two weeks.
"We think companies should be paying for intelligence rather than data," CEO Darian Shirazi told
Demand Gen Report.
"Customers may actually consume less data because the platform intelligence is helping them to be very targeted. It's an intelligence layer on top of a network-driven data set."
Shirazi added that "it gets us away from the [cost-per-lead] conversation. We just don't believe customers should have to pay for limitations or for data."
The Network of Record consortium is comprised of:
Customer Network: Radius connects hundreds of companies' B2B applications that contribute more than one billion "anonymized" business interactions that are matched and aggregated to validate and expand the richness, accuracy and breadth of the data.
Business Graph: The Business Graph includes data on more than 18 million businesses and 37 million contacts. Each business contains more than 100 attributes on average.
Always-On Data: Contributions from clients to The Network of Record increased 37% in connected records and increased 41% in contact records in the past six months. The information is accessible on-demand and updated consistently.
Business-to-Consumer Profile Matching: The Network of Record identifies contact attributes between business decision-makers and their personal profiles, enabling marketers to execute campaigns that incorporate additional profile information.