Report: Content, Social & Personalization Lead Marketing Priorities
Content marketing, social media and personalization were cited as the top three most important activities on marketers' lists, according to the 2017 Digital Trends Report, an annual survey published by Econsultancy and Adobe. In addition, despite its growing importance, marketers did not indicate they are prioritizing integration of on- and offline data.
Respondents noted that their top priorities include:
Content marketing (29% of marketers said content was top priority)—This entails providing educational/entertaining information that "grabs" people and gets them to engage with the brand. Content marketing tactics include webinars, how-to guides, blog posts and infographics, among others.
Social media engagement (28%)—Shifting demographics and internet usage patterns are the culprit for increased focus on social. More than half (56%) of client-side respondents indicated that they'll increase their social media marketing investment in 2017.
Targeting and personalization (25%)—The value of personalization—such as an improved ability to connect customers with the most relevant offer or content for them, which leads to increased engagement and loyalty—is widely recognized. More than half (51%) of respondents plan to increase spend on personalization.
Customer experience is considered the primary way for organizations to differentiate themselves from competitors in 2017. More than one-fifth (22%) of client-side respondents ranked "optimizing the customer experience" as the single most exciting opportunity for the year.
Personalization, and channels that lend themselves to personalization, are a driving force behind marketing success. There is increasing evidence that the opportunity of delivering effective personalization at scale cannot be ignored—separate Econsultancy research revealed that the majority (96%) of organizations rate personalization as a "highly" or "quite" valuable method for improving conversion rates, per study.
Design is considered a strategic weapon in digital transformation and its continued importance is a key theme this year, with 86% of survey respondents agreeing that design-driven companies outperform competitors.
As for the future—the three key areas marketers should focus on include looking beyond mobile and into the Internet of Things (IoT), augmented reality (AR) and virtual reality (VR)—a quarter (25%) of company respondents, and 26% of agency respondents, identified these channels as exciting prospects over the coming years.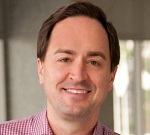 "The respondents overwhelmingly claim that customer experience is their most exciting opportunity. Many of them are investing in content and design, looking to create those experiences that will feel personal, compelling and memorable," said John Travis (pictured), VP EMEA Marketing at Adobe, in a statement. "At the same time, the report shows that investment in analytics is lagging. It seems that many businesses are so excited to get into the experience game that they overextend, neglecting to take care of the basics."
Indeed, despite continued focus on customer experience, organizations are not building their data and analytics capabilities fast enough. Only 8% of those in the study said that predictive analytics and customer scoring were one of their top priorities. Less than one in 10 are looking at joining their online- and offline data sets.
"Without prioritizing data, marketers will fail to bolster their priority to optimize the customer experience," per report.