How To Elevate Sales By Aligning Marketing Technology To The Buyer's Journey
Written by Liz Brohan, Colman Brohan & Davis, Inc.

Published in

Demanding Views
You've most likely been approached by a member of your team asking you to purchase software. The pitch is always compelling, whether the program offers the ability to track brand sentiment through aggregated online conversations or automate content so sales can concentrate on closing contracts. The advantages you hear about can go on and on.
You'll often agree with your colleague's selling points and feel excited about the opportunities that exist to boost your marketing results. Then, after some research, supplier vetting and ROI analysis, the data can convince you to say "yes!" and make a purchase. Now, you have a single piece of technology that your team will (hopefully) implement quickly. While you feel that this was a thoroughly considered purchase, you are anxious for it to be better integrated into your marketing process and, more importantly, prove its value.
However, there is a better way to ensure your technology purchases contribute to the results your team works to produce. It involves a strategic approach that maps the buyer's journey and structures a technology stack that serves the various stages in the (marketing?) cycle.
"You've got to start with the customer experience and work back toward the technology, not the other way around." -Steve Jobs
Who better to remind us how to successfully implement technology than Steve Jobs?
Now, where do you begin? Well, the first step is to construct the buyer's journey along with the corresponding buyer behavior happening during each phase. For example, in the "Awareness" phase, the buyer is most likely not in the market for your product or service, though they are usually engaged in passive listening. From there, the prospect moves into "Discovery." In that stage, prospects are actively pursuing a solution and engaged in research. This structure continues through the acquisition of your new customer all the way through buying and referral activity associated with maximizing lifetime value.
As you map out each phase, you'll also incorporate the marketing objective you are looking to achieve, which might look like the graph below:

Next, consider which marketing technology solutions will help you achieve each of the objectives you identified along the buyer's journey. You'll also want to assess the technology you already have and see if it's possible to integrate legacy systems and platforms in a way that works for your various stakeholders, including IT. More importantly, you'll want to be certain your technology solutions support a unified, sales-focused process. As you examine internal resources, you might find that you have software that is being underutilized or a solution that has overlapping services and integration features that, while available, doesn't support your marketing objectives.
There are also many technology categories that require evaluation. You'll want to understand where they are best positioned within the buyer's journey with an eye toward which behaviors they can help influence. There are workflow and asset management services that are applicable throughout all stages of the buyer's journey. Then, you may consider campaign management systems that support the awareness, lead generation and nurturing phases. Other categories include search engine optimization, website delivery, digital experience management and analytics platforms, to name a few. The graph below illustrates how and when these B2B systems and platforms can enhance your marketing efforts: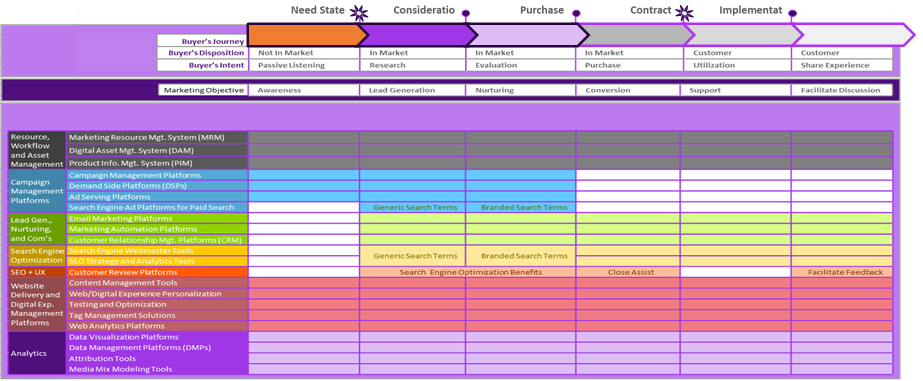 Another way to approach your martech needs is to look at the strategic outcomes you desire. To do this, figure out what you want to track, measure, optimize and improve, and then match software to those goals. An example of an integrated stack that drives results against the phases of the buyer's journey and ultimately delivers revenue might include a CRM, ESP or DSP platform along with engagement tracking, analytics tools and social listening.
So, the next time a member of your marketing team recommends a technology solution that they believe you can't live without, have them look at your buyer's journey first. It's the key to crafting an integration process that will help drive MQLs, turn them into SQLs, convert those to customers and, eventually, ensure their status as your brand ambassador.
---
Liz Brohan is CEO of Colman Brohan & Davis, Inc. (CBD Marketing), a 30-person, full-service agency in Chicago, where she leads brand revitalization, customer acquisition and retention efforts for national and global companies serving B2B markets. Initiatives involving adtech and martech are foundational to the marketing solutions developed by the agency for products, brands and companies in all industries, including building products, food and food ingredients, manufacturing, technology and financial services. Liz speaks nationally on marketing topics.