Triblio Launches Smart Pages, Aims To Help Marketers Scale 1:1 ABM Campaigns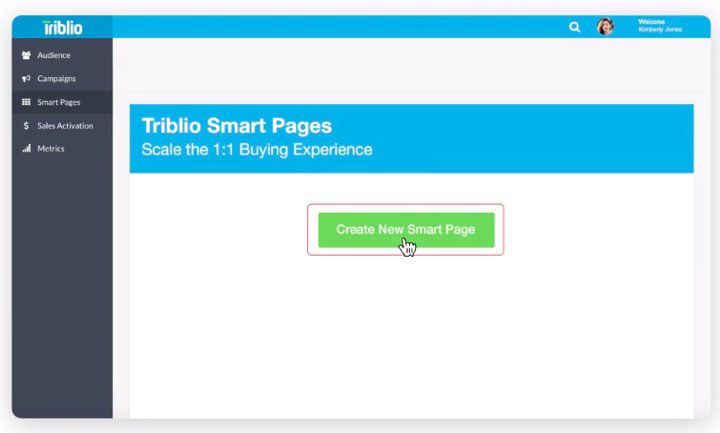 Triblio Smart Pages is designed to allow B2B marketers to scale 1:1 ABM programs to thousands of accounts. Instead of creating one-off landing pages for every account, marketers can define segmentation rules and let Triblio Smart Pages do the heavy lifting of creating unique 1:1 web pages for each and every target account.
FEATURES/FUNCTIONALITY
Smart Pages is designed to generate account-specific landing pages for target audiences in minutes. Each Smart Page has a Custom and private URL specific to the prospect, along with 1:1 or 1:many content provided via merge fields or segmentation rules.
Triblio Smart Pages evolve with the buyers' journey. Users start with a marketing-based template that can be refined and tweaked by sales reps as the account moves down the funnel. With no coding or custom integrations required, users are positioned to build lists right from CRM data and edit pages from the Account page in CRM without coding or custom integrations.
TARGETED USERS
Target users include ABM practitioners, such as campaign managers, marketing ops, content marketers and sales reps, as well as current Triblio customers.
COMPATIBILITY
Triblio Smart Pages can be run independently of other systems, but data integrations are available with Salesforce, Microsoft Dynamics and HubSpot CRM.
DELIVERY/PRICING MODELS
Pricing starts at $29,000 per year.
COMPETITIVE POSITIONING
Triblio Smart Pages are purpose-built for scaling 1:1 ABM campaigns to thousands of accounts, solving the alignment and coordination problems that frequently cause breakdowns between Marketing, SDRs and Sales.
Marketing controls the initial experience by curating data, content and templates that speak to the needs of a target account list. These points are then used to create unique landing pages for each account that can be used as CTAs in marketing automation emails, social campaigns or advertising efforts.
SDRs then carry this momentum forward by dropping the pages into their outbound cadences, guaranteeing that the message they're delivering is consistent with the marketing nurture happening on other channels — and that all the metrics flow back to a single, unified picture of the account.
When an account is ready for Sales, the rep can then take over the experience and further refine the page right inside of CRM — adding presentations, PDFs or other content that will speak to the more specific selling points they uncover in sales conversations.
CONTACT
Triblio
11600 Sunrise Valley Dr.
Suite 100
Reston, VA 20191
(888) 328-8667