B2B Marketing & Sales Practitioners Spark New Creativity At Virtual #B2BSMX Event
Featured
The second annual B2B Sales & Marketing Exchange, hosted by Demand Gen Report in partnership with Terminus and The Pedowitz Group, kicked off on Monday, Oct. 26 in a new medium. The now virtual experience may have felt different than last year's inaugural (physical) event in Boston, but the goal remained the same: To provide B2B marketing and sales professionals with a great experience and detailed content that will help their revenue teams reach their goals in 2021.
Given the sudden mandatory shifts in go-to-market strategies amid the Covid-19 pandemic, the theme of this year's presentations focused on the creative fuel B2B organizations have used to pivot to new revenue realities. More than 1,900 attendees registered to gain inspiration, learn about the latest technologies in the space and have meaningful conversations with peers and industry experts. The virtual energy and engagement among attendees were unmatched.
Following a morning of hands-on workshops led by industry experts, Jay Acunzo, Author and Founder of Marketing Showrunners, kicked off the event with an inspiring keynote on setting better goals to find a "new Plan A."
"We don't need to settle on a Plan B or C or D," said Acunzo. "We need to adapt, to evolve, to change. We need to learn how to incorporate new variables we didn't expect into our equations, into our decision-making process. And we need to do that so we can make the best possible decisions."
Marketers must move away from relying on traditional best practices and think more about how they can make a difference in their marketing and the way they engage with prospects and customers.
"Do what you can, where you are, with what you got," said Acunzo. "But that implies that we're used to making decisions based on where we are and what we've got. We can't keep relying on the best practice."
Acunzo emphasized that growth is a measure, and it all starts with figuring out what your goals really are. "Our goal is to always grow the metrics. We're always stuck in this endlessly spinning wheel of reactive work. And it's causing us to settle, too. The real goal isn't the growth of the metrics. Growth is a measure; a sign you're achieving … what? It's a measure of the real goal. And no matter how you articulate it, we all share the same version of the goal: Make a difference."
Agility, Data & Curated Content Positions West Monroe To Compete With The Bigwigs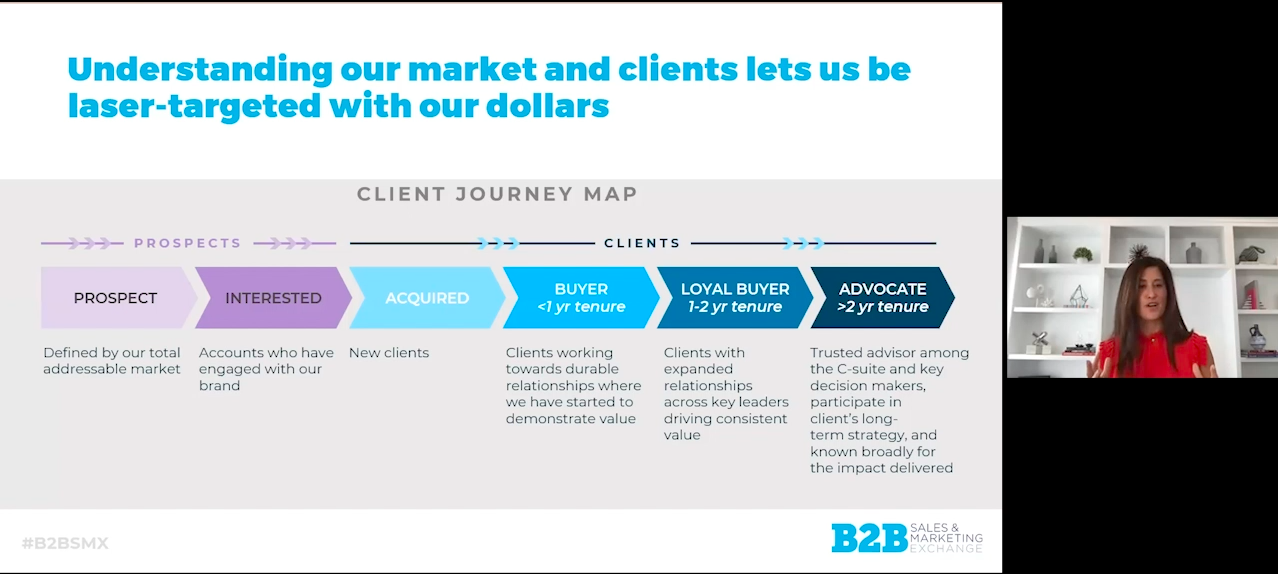 For West Monroe, a business and technology consulting firm, a new Plan A meant stretching dollars, targeting specific stages of buyers' journeys and supplying content that provided solutions to their unique pain points. During her keynote presentation, CMO Casey Foss emphasized the importance of being nimble enough to respond to the market as fast as possible, and it all came down to understanding the customer and leveraging all the data at her disposal to influence and drive revenue.
"I am obsessed with understanding our customers and understanding the industries they work in," said Foss. "In turn, I am able to serve up these insights to our leadership. I am able to provide a holistic view of the broad market issues that are keeping our clients up at night. And that ultimately helps drive the strategic direction of the firm."
Foss and her team are believers in failing fast, but piloting and pivoting constantly. "At the end of the day, we stay super focused on the metrics that matter to our business because that's how we compete and win — staying focused on data, moving beyond silos and moving fast on what the market is telling us."
Without trade shows or host client events, data and information are critical. West Monroe invests heavily in nurturing existing clients and using intent insights to stretch dollars and create content to maximize impact.
"In 2020, if you are not agile and capable of responding to the market quickly, you are irrelevant, tone-deaf, or worst of all, wasting money," said Foss. "All of us had our marketing plans pulled out from under us at the start of the pandemic and building teams to be nimble and able to pivot as market conditions shift became a clear differentiator."
Foss and her team rely on a six-stage buyer's journey framework that allows them to create specific touchpoints to address the unique buyer needs within each individual stage. Because each journey is different, it needs to be treated as such.
But when the pandemic hit, Foss said she knew no one was going to care about the content they had planned. The team implemented a scrum-like process with bi-weekly sprints that allowed them to figure out what existing content can be served immediately or needed to be refined to reach buyers where they were.
For West Monroe, agility is key. According to Foss, marketers:
Have to adapt for not only the pandemic, but any potential problems;
Must help buyers now by showing we have the insights they need, and remove irrelevant insights and marketing that contradicts their needs;
Can't get attached to the old way of working; and
Need to think about how we are impacting the brands we work with and sell to.
Jeff Davis Reveals 7 Steps To Alignment Transformation
A core theme of B2BSMX has always revolved around developing and maintaining the necessary alignment between marketing, sales and other organizations. Alignment is a constant struggle for B2B teams, but the current climate and work-from-home mandates have highlighted the need for it.
During his keynote presentation, Jeff Davis, Author and Founder & Principal of JD2 Consulting, emphasized how misalignment costs more than we all realize. Because the buyer-seller relationship has changed, the B2B orgs that focus on helping buyers make decisions always wins. However, the buyer's journey is not a lead hand-off process and B2B orgs must move away from that mindset.
"We underestimate the impact that misalignment has on the organization because it has been dysfunctional for so long," said Davis, who revealed that $1 trillion or more every year is wasted due to lost sales productivity and wasted marketing budget. "Just doing more is not working. Stop looking at volume and switch the narrative to look at how effective, efficient and productive you are —that's how we will win in 2020 and beyond."
Davis took the audience on a deep dive into the common symptoms B2B teams must look out for that indicate how misalignment is negatively impacting their business:
1. Poor quality leads — High volume, but low conversions
2. Different goals — This is a huge red flag. "If sales and marketing are operating on two different pages and their goals are not aligned, you have work to do."
3. Lack of tribal knowledge — No business intelligence is being shared. No information is going back from sales to marketing. Davis noted this is a missed opportunity because sales is talking to customers every day. "Salespeople are the best market research," he said.
4. Dysfunctional relationship — This means orgs don't understand how to leverage each other in a business context to achieve functional goals.
Davis went on to share a 7-step framework that can help B2B organizations develop strong alignment: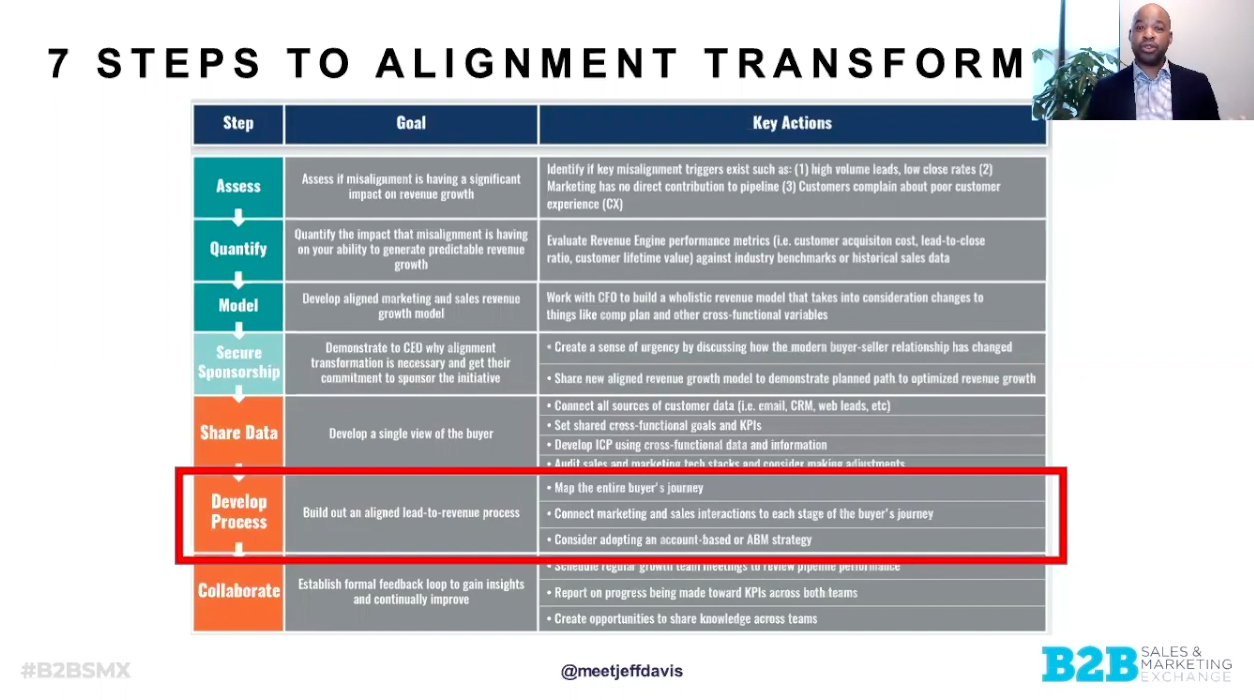 Davis noted that one of the most important steps in this framework is getting the C-suite on board.
"You actually need the CEO to be the face and the voice of this transformation," he said. Because aligning sales and marketing is about making a true business transformation. And that can't be done without the senior leadership being on board. This requires sharing data between sales and marketing so we can see cohesively what our interactions are with the buyer."
It's not too late to get in on the B2BSMX action and watch all of these great presentations on-demand.