Appboy Launches Conversion Tracking Feature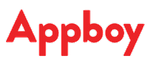 Appboy, a provider of marketing automation for mobile apps, launched conversion tracking capabilities designed to enable marketers to set custom campaign goals and monitor user interactions with messages.
The feature is designed enable marketers analyze the path to purchase and enhance future retargeting. Additionally, campaigns triggered by Appboy's API allow marketers to measure campaign effectiveness outside of the Appboy platform.
"As a marketer, it is incredibly important to understand the true success of a campaign," says Mark Ghermezian, CEO and Co-Founder at Appboy. "Prior to conversion tracking, marketers were only able to see open rates for push notifications, emails and in-app messaging. However, the goal of a campaign isn't always interaction with a message or even opening the app. Marketers can now track custom actions such as making a purchase or sending a message."