EveryoneSocial Delivers Platform For Employee Advocacy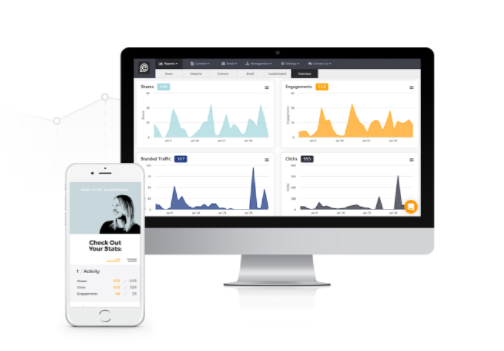 EveryoneSocial is an employee enablement and social selling software designed to help employees become brand ambassadors for their companies.
FEATURES/FUNCTIONALITY:
EveryoneSocial provides tools to help roll out a successful employee advocacy or social selling program, including:
The ability to push content to employees;
Simple, powerful social sharing tools;
Web, mobile and email tools to keep employees engaged;
Leaderboards and gamification;
Detailed reporting and analytics;
Tools for better engaging channel partners; and
Deep integrations with Salesforce and other business systems.
TARGETED USERS:
EveryoneSocial customers are B2B companies with more than 500 employees spanning high-tech, telecommunications, financial and professional services, staffing, commercial real estate, and many other industries.
COMPATIBILITY:
The company integrated the EveryoneSocial platform inside Salesforce, as it's own tab, with 100% of the functionality.
DELIVERY/PRICING MODELS:
EveryoneSocial pricing is based on tiers, each of which includes licenses for a certain number of active users. Tiers start at $1,500 a month and scale to enterprise-wide.
CURRENT CLIENTS/USERS:
EveryoneSocial customers include Adobe, SAP, Dell, HP, Electronic Arts, Symantec, Genesys and many other high-performance organizations.
COMPETITIVE POSITIONING:
Companies choose EveryoneSocial for two reasons: 1) the company partners with clients to ensure their success and 2) it generates the highest levels of user engagement, which is the foundation of any successful employee advocacy or social selling program.
CONTACT INFO: