HubSpot Inbound Marketing Software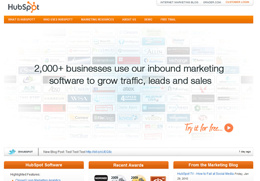 SOLUTION SNAPSHOT:
HubSpot is inbound marketing software that helps your business get found on the Internet by the right prospects and convert more of those prospects into leads and paying customers.
FEATURES/FUNCTIONALITY:
Today's buyers can't be reached with traditional approaches to marketing. Outbound techniques like cold-calling, trade shows, email blasts and print advertising are getting more expensive and less effective.
To get found by qualified prospects today, your company must be at the top of search engine results pages, linked-to from popular blogs and talked-about on social media services. To convert those prospects into paying customers, you need robust lead tracking, lead nurturing and marketing analytics.
HubSpot software and advice makes it possible for mere mortals to thrive in this complex new world.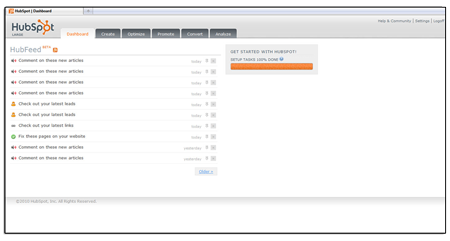 TARGETED USERS:
Our primary market comprises small/medium B2B companies. Job titles include Director/Manager of Marketing, owner, CEO, CMO, COO, depending on size and setup of the company.
COMPATIBLITY:
HubSpot integrates with most CRM/ERP systems via CSV import/export and/or our lead API.  We have bi-directional integration with Salesforce.com, where HubSpot leads feed into SFDC and SFDC back-feeds closed-loop marketing information into HubSpot.

DELIVERY/PRICING MODELS:
HubSpot is SAAS, hosted on RackSpace and EC2 (the Amazon cloud).  The Small product is $250/month, Medium $750/month, and Large $1,000/month, with varying features.  Small requires customers' sites to be hosted on our CMS, and Small and Medium products require a purchase of 4 hours of consulting time at $500.
CURRENT CLIENTS/USERS:
Please visit http://www.hubspot.com/customer-case-studies to view case studies, customer quotes and video testimonials.
COMPETITIVE POSITIONING:
HubSpot provides a simple and integrated set of software tools that span the breadth of the sales and marketing lifecycle, from demand creation, to lead capture and eventually closed loop marketing.  This enables customers to benefit from advanced end to end marketing without purchasing, integrating and learning multiple disconnected point solutions.
CONTACT INFO:
Contact HubSpot: info@hubspot.com