Intercom Expands Custom Bots Offering With Video Capabilities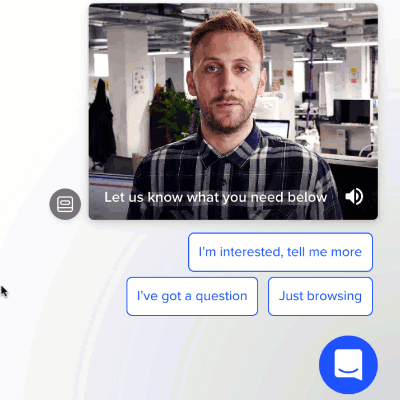 Intercom's latest release, Video Bots, aims to combine the personalization of video with the automation of bots to create deeper and richer connections between businesses and customers.
FEATURES/FUNCTIONALITY
Video Bots is connected to Intercom's Custom Bots. It is designed to let sales and marketing teams capture website visitors' attention and accelerate sales by automatically sending customizable video messages to every website visitor. Features include:
Code-free custom bots with their own identity;
Bot Auto Messages (BAM), which are bot-triggered conversations and messages based on visitor activity and data;
Ability to build custom questions and reply buttons for conversational workflows with multiple branches;
Turn conversations into actions by automatically booking meetings, scheduling demos and more;
Create reports that show key insights, such as leads captured, leads qualified and meetings booked.
TARGETED USERS
Video Bots is designed to help sales and marketing teams accelerate sales.
COMPATIBILITY
It is positioned to integrate with Marketo, Salesforce, HubSpot, Clearbit and more. It also works with email marketing tools like Mailchimp and Campaign Monitor, as well as scheduling tools like Google Meet.
DELIVERY/PRICING MODELS
Early access to Video Bots can be added to any Intercom subscription with Custom Bots. Any customer who adds Custom Bots will get a 14-day free trial of Video Bots.
CURRENT CLIENTS/USERS
Video Bots is available for early access to Intercom customers.
COMPETITIVE POSITIONING
Intercom aims to offer a business messaging platform with conversational video capabilities to capture website visitors' attention and create deeper, stronger connections between businesses and customers.
CONTACT INFO
Intercom
55 2nd St, Suite 400
San Francisco, CA
94105
Chat with Intercom to find out more and access a free trial.