Pardot's Prospect Insight
Pardot's Prospect Insight is an on-demand web marketing automation suite that helps sales team focus efforts on the best prospects, maximizing ROI.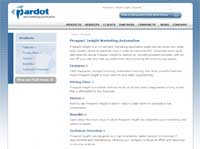 Advanced micro-level web analytics and automated technology allow Prospect Insight to capture all relevant prospect activities and determine the most sales-ready leads while nurturing less qualified prospects throughout the buying-cycle.
FEATURES/FUNCTIONALITY:
With Prospect Insight, marketing and sales users can track prospect activity, including page visits, email opens and more. Automated scoring and grading allow sales-ready leads to easily float to the top. The drag and drop form builder and easy to use landing page and email editors allow marketers to quickly build and launch sophisticated, integrated campaigns. The advanced automation rules and time-specific drip marketing functionality free up valuable marketing and sales resources without neglecting prospects. With anonymous visitor tracking, Prospect Insight also captures information on visitors who did not convert into identified prospects.
TARGETED USERS: Prospect Insight's familiar and intuitive interface makes it the ideal tool for marketing and sales professionals with limited technical knowledge. Simple design elements and straight-forward reporting allow for easy creation and analysis of closed-loop marketing programs. The automation suite is best suited for small to mid-sized B2B organizations with complex sales cycles.
COMPATIBLITY: Prospect Insight offers seamless integration with Salesforce.com, SugarCRM and NetSuite, syncing data between systems. Additionally, the Google AdWords connector imports campaign data to provide advanced cost-per-opportunity analysis of paid search ads.
DELIVERY/PRICING MODELS: Prospect Insight is an on-demand, hosted solution available in Group, Professional, and Enterprise editions. With no long-term commitments, Prospect Insight is a month-to-month service and is priced on a per-user basis.
CURRENT CLIENTS/USERS: Over 60 B2B organizations currently rely on Prospect Insight to improve lead quality and automate marketing functions.
COMPETITIVE POSITIONING: Easy to implement and simple to use, Prospect Insight combines an intuitive interface with advanced micro-level web analytics to provide the most in depth and user friendly lead management application available.
CONTACT INFO: Pardot LLC, 877.3B2B.ROI, or info@pardot.com.