TrackMaven's Competitive Content Intelligence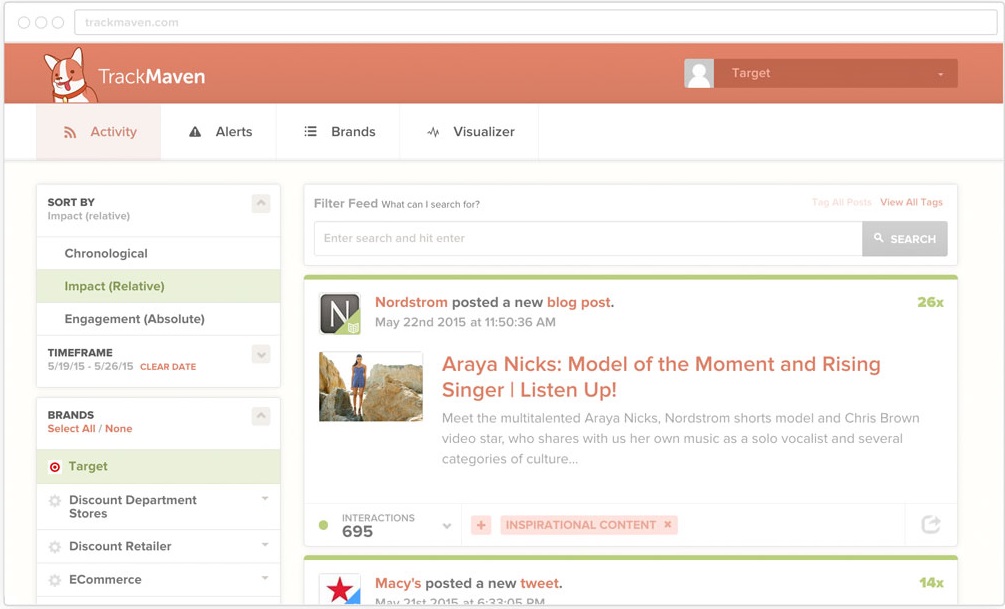 TrackMaven is a tool designed to help marketers create engaging content based on data and insights gained from competitive analysis.
Features/Functions
By analyzing digital content across the competitive landscape, TrackMaven positions B2B marketers to track the performance of their content marketing initiatives. This in turn helps them craft editorial calendars and optimize distribution strategies.
TrackMaven can also track the engagement and content performance of specific competitors, positioning users to benchmark their marketing initiatives and identify areas of success and gaps that require improvement.
Compatibility
TrackMaven is compatible with Marketo and is available through their LaunchPoint partner ecosystem. The solution can track competitor content through a number of channels, including email, Facebook, Instagram, Twitter, Pinterest, Tumblr, YouTube, Google+ and LinkedIn.
Pricing
Click here to request a quote.
Competitive Positioning
The solution positions companies to identify topics of discussion that are resonating among their target audience, allowing users to tailor their content strategies to meet the needs of their prospects.
Alert notifications can also notify content marketers when information is altered within their content, offering insight into how these changes are impacting content success and keeping brand messaging consistent.
Contact Information
TrackMaven
1 Thomas Circle NW, 9th FL
Washington, D.C., 20005
202-503-9994