Pinterest And B2B Marketing: Pinning Down The Newest Social Media Player

As a new kid on the social media block, Pinterest has had its ups and downs lately. After a stretch of mind-boggling growth during 2011 and early 2012, things have cooled off a bit for the social photo-sharing site. Perhaps inevitably, some people are suggesting that Pinterest is a flash in the pan.
Here's the truth: There's a lot to like about Pinterest – certainly enough to guarantee it a long and prosperous life. There's also evidence that Pinterest is a useful marketing tool, both for B2C brands and for a small but growing number of B2B firms.
Pinterest By The Numbers
The concept behind Pinterest is simple: Users create theme-based virtual "pinboards" where they post photos (and sometimes videos) for other users to browse and share. Members can "re-pin" or "like" others' photos. Users can also add Pinterest "Follow Me" and "Pin It" buttons to their personal home pages, blogs or other content sources, allowing Pinterest users to repost and share their visual content.
"We love the simplicity of Pinterest, and we think that's one of the driving factors behind its popularity," said Lori Rosen, Executive Director of the Custom Content Council. "With Pinterest, the sharing of content has been reduced to a photo.  If someone finds a pinned photo interesting, they will click it and engage further."
Since its founding in early 2010, Pinterest has experienced growth that's impressive even for a top-tier social media site. In January 2012, according to comScore, the site had 11.7 million unique U.S. visitors, making it the fastest site ever to break the 10 million mark.
More recently, however, Pinterest's skyrocketing numbers have leveled off. Growth in unique visitors dropped from millions of new users per month in January and February 2012 to hundreds of thousands during March and April.
Chalk up some of this to maturity: Every site's traffic growth levels off once its user base expands and a rush of curiosity-seekers yields to a smaller (but often more valuable) group of regulars. The question for businesses isn't whether Pinterest has staying power. Instead, it's a matter of discovering how best to use Pinterest as a brand-building and content marketing tool.
A No-Brainer for B2C, Retail Brands
This is an easier nut to crack for B2C marketers. Retail brands like Lowe's, Nordstrom and Whole Foods Market are a natural fit for Pinterest's visual focus, which is ideal for sharing images related to food and recipes, interior design, fashion and decorating.
"There are hundreds of consumer brands using Pinterest from a content marketing standpoint.  We really like what Lowe's is doing," Rosen said. "They have many different seasonal pinboards, for Valentine's Day, Halloween, and a host of others.  They don't use their pinboards simply to promote Lowe's.  They mix in Lowe's related products, with cool things on Etsy, recipe blogs, and more."
According to Rosen, Lowe's brand-building efforts paid off: "The Valentine's Day pinboard alone has over 14,000 followers.  They are sharing just like a consumer, while mixing in their own products and content.  It's a great way to build trust."
The Value Of Being An Early Adopter
For B2B marketers, especially those focused on lead-generation efforts, Pinterest may not appear to be such a natural fit. According to Eloqua VP of Content Marketing Joe Chernov, however, it's important for B2B firms to remember that being an early adopter on social media – even when the value proposition isn't yet clear – has its benefits.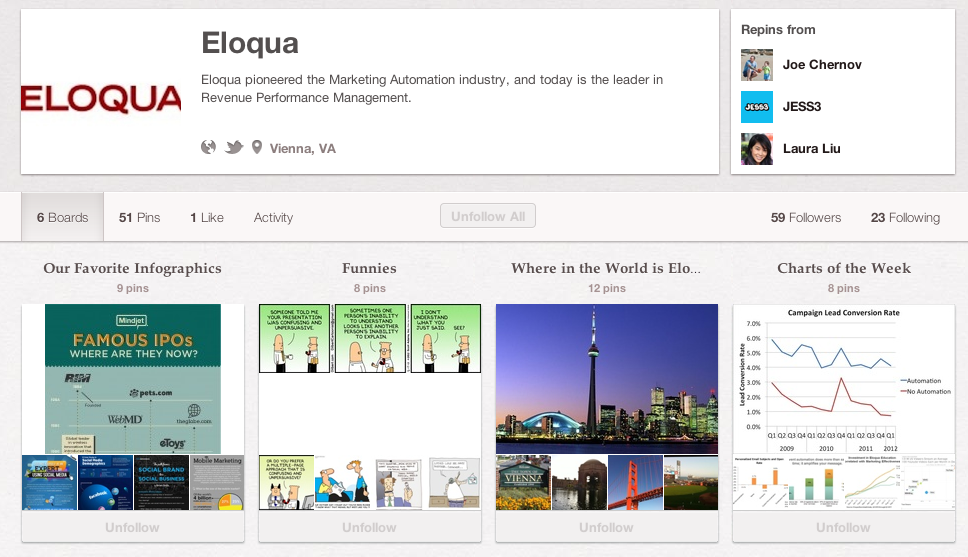 "What I've found is that C-level executives want to feel like social media 'is in good hands,'" Chernov explained. "If you appear to be 'late' to join a new – and wildly popular – social network like Pinterest, then it can shake that confidence. Sometimes establishing a presence, even prematurely, on a social channel is as much about internal optics as business value."
Chernov also pointed out Pinterest's value as an intelligence-gathering tool for B2B marketers. "It's fascinating to see who is pinning your content – and your competitors' content," he stated. "It gives you very keen insight into who in your community is truly engaged with you. It's one thing for someone on Twitter to retweet a post of yours, but it's a higher order of intimacy when you are able to track down who is associate themselves with your brand by pinning your content to their boards."
Rosen added that Pinterest can also spur innovation by prompting B2B marketers to rethink their content strategies. "Pinterest might force B2B content marketers to consider including more artistic elements, such as photos, screen shots and infographics to their content."
Pinterest For B2B Branding…
The case for a Pinterest presence may not be as clear to B2B marketers, especially those working in fields where visual content isn't the norm. Yet some B2B marketers are already establishing a presence on the site with compelling visual content. GE, for example, has earned favorable reviews with its series of pinboards that span both B2C ("fabulous kitchens") and B2B ("badass machines") markets.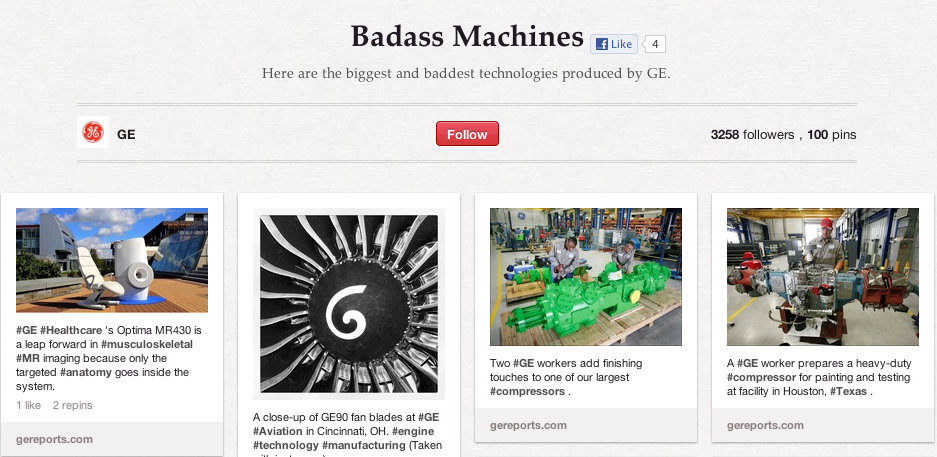 According to Jon Lombardo, Manager Social Media for GE, the company's Pinterest presence launched in January 2012. "Initially, it was a strategic experiment to better understand what visual content of ours people want to engage and share," she said.
"Pinterest taps into a very important trend for the next half decade on the web – the interest graph,"Lombardo said. "Pinterest represents that GE interest graph to people in a unique and visually powerful way, which allows them to connect and discover the brand in a way that's not possible on other platforms."
…And For B2B Lead Gen
Another B2B firm, marketing automation vendor HubSpot, is integrating its Pinterest activity into a lead-generation strategy – and getting measurable results.
"We were curious to see how Pinterest might compare to other social sources in terms of referrals and how it would impact our sales funnel," said Magdalena Georgieva, HubSpot Inbound Marketing Manager. "We started pinning content and including a 'pin' button on our blog." The company's Pinterest pinboard mix now includes infographics, images culled from blog posts, customer photos, and a variety of other content.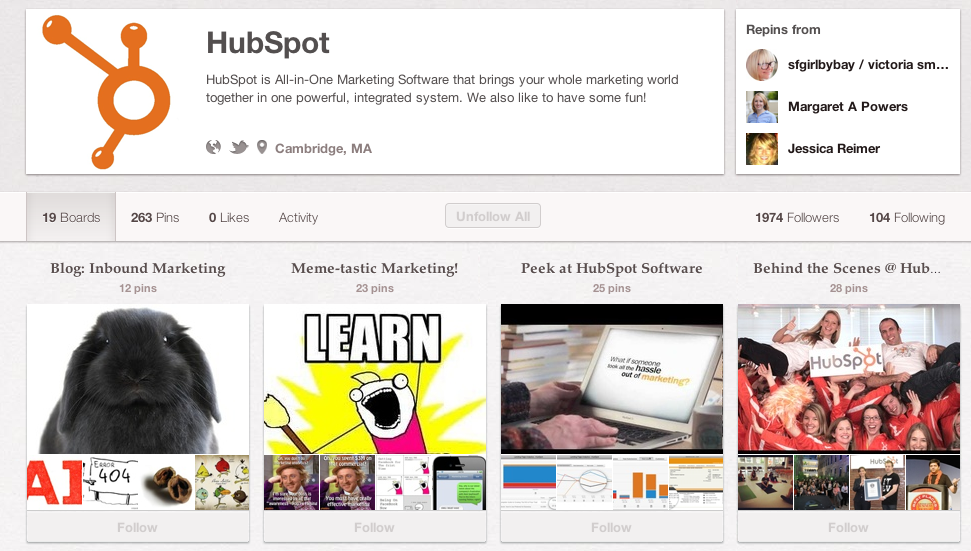 According to HubSpot's own marketing analytics data, its Pinterest investment is paying off. "In the last six months we attracted close to 6,000 visits from Pinterest and just over 4,000 visits from Google+," Georgieva said. "We used our marketing analytics to look at the number of leads these channels brought us, and it's about 850 from Pinterest and about 350 from Google+."
After studying these results, Georgieva said, HubSpot decided "to invest more time and effort in Pinterest and figure out how we can better nurture the incoming traffic."
According to Lombardo, while GE's Pinterest presence has driven some leads, the company considers sharing to be its most important Pinterest metric. "If the content is found to be valuable enough to stop and share with a friend or colleague, that carries a lot of weight and ultimately leads to more impressions," she stated.
Fitting Pinterest Into The Social Media Picture
Georgieva counsels B2B marketers to think carefully about how Pinterest might – or might not – suit a company's individual needs. "The conversation and the demographics are very different than, say, Google+," she explained. As a result, topics that resonate on Twitter or LinkedIn may fall flat when they're translated to a visual format.
Another issue to consider is the effort required to build and leverage a presence on Pinterest. "Unlike other social platforms, it's not as low-maintenance as Twitter and Google+," Georgieva said. "You can use the same update process for Facebook, Twitter, LinkedIn and so on – it's pretty much a single button-push with the same content. Pinterest has visual-based format; it requires more thought, and you can't just reuse the same content you're using on text-oriented social networks."
Pinterest, she added, also requires an eye for aesthetics: "We're always looking for quality content for Pinterest – what's pleasing to the eye as well as educational."
"Don't think of Pinterest as any other social network in terms of the content," Georgieva concluded. "Invest a bit more effort and pick great visual content to see results. If your content isn't appealing, you won't get shared and won't see results. Pick interesting data, infographics, images of customers, book covers… do some brainstorming and follow up with your best options."
Lombardo also emphasized the need to think creatively about a company's Pinterest content. "Pins and boards should reflect your brand's human side," she said. "First and foremost, it should be visually stunning. It's not always about the products, but identifying interests that are important to your audience and finding creative ways to bake your brand."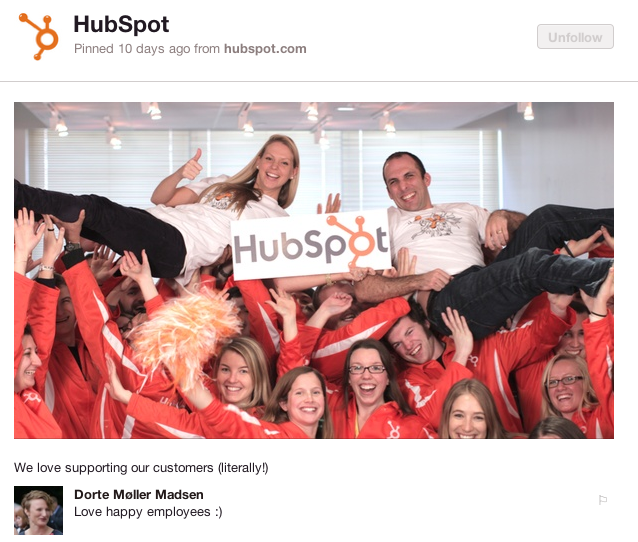 On a practical note, Lombardo said that marketers shouldn't overlook Pinterest's hash-tagging feature. "Hash tagging is a very underutilized feature," she stated. "This common connection tool isn't used often even among the top users. We hash tag the keywords in the description for every pin to ensure easy and relevant search results."
Business-Friendly Features Remain Scarce
In spite of HubSpot's positive experience with Pinterest, Georgieva advised B2B marketers to study Pinterest – like any other social media option – with a critical eye and to make data-driven decisions about its usefulness. "You've got to use analytics to see whether this traffic is quality, generating leads, not just visits," she said. "If we got more visits but fewer leads, then that might impact our decisions about how much to invest there."
Companies wary of getting an ROI from their Pinterest efforts may also take pause at the lack of business-friendly design or branding tools on the site. Business search results are part of the "people" search-result category on Pinterest, at times pushing them far down a page of results. (A search on "GE," for example, won't show you the company's official Pinterest account until you scroll past dozens of other accounts.)
Pinterest also lacks the business-friendly analytics or app-integration tools that sites like LinkedIn and SlideShare take so seriously. According to Pinterest's "brand best practices" guide, "brand accounts are the same as a regular user's account and have all the same features" – a notable contrast with Twitter and Facebook, both of which how support business brand pages.
(A Pinterest representative, citing company policy, declined comment on the site's future plans for business-ready tools or features.)
More B2B Brands Planting The Flag
As with other social media sites, however, B2B brands that don't invest in a Pinterest presence may find somebody else doing it for them – using their name. When DemandGen Report searched Pinterest in early May 2012 for a list of 20 prominent companies, including a number of B2B brands, less than half had an identifiable presence on Pinterest.  Another blogger, writing for Econsultancy in February 2012, searched the world's top 50 brands on Pinterest and found just five had claimed their own names.
Worse yet, in many cases individual "brand squatters" have (intentionally or otherwise) claimed trademarked brand names as their personal Pinterest handles. While the site has a process in place to deal with such conflicting claims, it's not clear that some marketers are even aware of the problem, much less trying to correct it.
As Joe Chernov pointed out, this is the kind of situation that could clearly cause problems for a B2B marketing organization, especially as Pinterest continues to gain momentum as a top-tier social networking site. If a Pinterest presence is the sort of thing, as Chernov said, that "calms the nerves of your executive team," allowing brand squatters to claim a company's turf will probably do just the opposite.
Fortunately, many B2B marketers are getting on top of the problem: When DemandGen Report searched its same list of companies in mid-May, several of the previous no-shows had established at least a minimal Pinterest presence. If HubSpot's success is any indication, some of these B2B brands may want to move beyond just "planting the flag" and get serious about Pinterest as a lead-generation source – and about tracking the return on their efforts.