B2B Marketers Embracing Review Sites As Valuable, Trust-Building Tools Across Buyer Journey
Featured
The B2B buyer journey increasingly mirrors its B2C counterpart, with prospects now turning to B2B review sites for credible peer advice much like they would Yelp or Glassdoor. According to Demand Gen Report's 2018 B2B Buyers Survey, 65% of buyers rate B2B software and service reviews as "very important" when evaluating a set list of solution providers. As such, top-tier marketing and sales teams at companies such as Marketo, InsideView and Quick Base are embracing B2B review sites as a way to gather trustworthy, third-party testimonials and infuse customer voices across the buyer journey.
"This is a very large market and one that is still very fluid," said Scott Brinker, Editor of
Chief Marketing Technologist
and VP of Platform Ecosystem at
HubSpot
in an interview with
Demand Gen Report
. "From the perspective of a martech buyer, it can be a daunting landscape to face … Anything that makes it easier for marketers to find and select the right vendor is a wonderful thing, and B2B review sites play a very valuable role in that process."
Peer reviews are proving to hold the potential to sway potential business decisions. In fact, findings from the Spiegel Research Center show that displaying five or more reviews can increase a company's conversion rates by as much as 270%. According to the 2018 Benchmark Report: The Impact of Reviews on B2B Buyers and Sellers, 92% of buyers said they were more likely to purchase a product or service after reading a trusted review. Yet, less than half (43%) of B2B businesses are currently using reviews as part of their marketing strategy.
"As I'm getting closer to pulling the trigger, that's when I'll do a lot of that research and really look at what customers are saying on third-party review sites," said Alex Schutte, Head of Digital Marketing Strategy at Paycor, in an interview with Demand Gen Report. "They play a critical part that is often undervalued and prioritized by the vendors themselves."
Software review sites such as G2 Crowd, TrustRadius, GetApp and more are becoming an invaluable resource for buyers and can serve marketers just as well. When used correctly, review sites can help marketers build trust, boost conversions and grow customer advocacy networks.
"The vendor has a very clear idea of what its points of differentiation are in an actual solution," said Brinker. "But rather than just putting those as bullets in your final PowerPoint side, cherry-picking out reviews from individual customers that in their own words support those particular points of differentiation can be incredibly powerful content."
Amassing Trustworthy Testimonials From Third-Party Review Sites
The power of B2B review sites lies in their credibility as a trusted, third-party resource. TrustRadius, for example, states on its website that it aims to provide "B2B [insights] without the BS."
"Buyers see the words that marketers use and they all start to sound the same," said Founder and CEO Vinay Bhagat, in an interview with Demand Gen Report. "When we talk about what buyers want, it's that they don't want spin. They don't want the hyperbole. They want to hear from other buyers and they want the truth."
TrustRadius currently houses more than 141,000 technology reviews — all of which come from verified reviewers and have been thoroughly vetted for accuracy and quality, according Bhagat.
"The stakes are really high in B2B," said Bhagat. "We're often buying expensive applications and even if they aren't expensive, they're still consequential to your business …. You don't want to risk losing your data to a system that has errors. From day one, we knew that we would have to make sure that the data and content on our site was real and accurate."
To ensure high-quality content, TrustRadius implemented a multi-step verification and approval process. First, users must register via LinkedIn to submit a review. The company then performs a number of software tests to certify that the reviews are real and come from legitimate profiles. The next step is human verification, where every single review must be read and manually approved by a TrustRadius employee before it can be published. According to Bhagat, roughly 13% of the reviews submitted to TrustRadius are rejected on suspicion of fraudulence or for not meeting quality standards.
G2 Crowd, another leading business software and service review platform, also requires LinkedIn credentials and leverages a combination of AI and manual labor to detect and prevent false or biased reviews. In addition, users must upload a screenshot of them using the application to show that they are a "verified current user."
The company's newly reappointed CEO, Godard Abel, says the safeguards are designed to bring credibility to B2B review sites — an issue that has plagued B2C review sites in the past.
"Yelp got a little bit of a bad name, right? People don't trust all their reviews, so there's a couple of things that we've done differently," said Abel, in an interview with Demand Gen Report. "One is that we require people to use their LinkedIn identity to sign up and write a review. That allows us to validate that they're real people, know what industry they are in, what company they work for and what their job function is."
Boosting Conversion Rates By Positioning Customer Reviews Throughout The Buyer Journey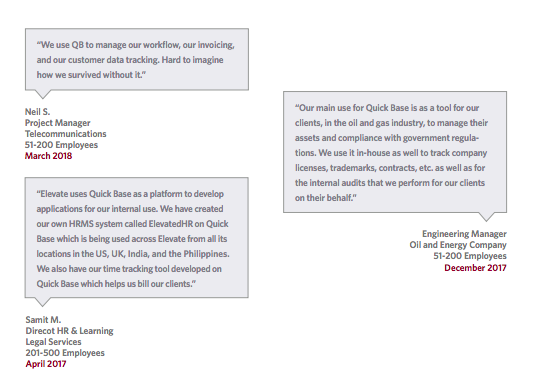 The high standards placed on B2B reviews not only increase buyer trust, but also provide vendors with a list of satisfied customers who may serve as excellent advocates and compelling case studies.
This content can be used by marketing and sales teams to capture buyer attention during the research phase, enhance nurture campaigns and differentiate against competitors when customers are making their final decision.
Marketo, a marketing automation software provider, uses TrustRadius to identify ideal customer advocates for reference calls, case studies and video testimonials.
"[TrustRadius] helps us go beyond just the general curation of reviews, to turning our review program into a strategic element of our core customer marketing program," said Julie Perino, Senior Director of Customer Marketing at Marketo, in an interview with Demand Gen Report. "We have also enabled our sales development reps to lead their outreach with review quotes and have seen a positive lift in conversion and response rates."
According to Bhagat, vendors who infuse customer reviews into their content see conversion rates rise by an average of 30%.
InsideView, a targeting, sales and marketing intelligence platform, also utilizes reviews to enhance its marketing and sales strategies. The company features reviews directly from G2 Crowd on its website to add credibility when customers are conducting research.
In addition, InsideView is listed as a "leader" on G2 Crowd's Grid for Sales Intelligence. The company's high ranking on the third-party grid enhances its credibility and helps the sales team position the platform against competitors, according to Joe Andrews, VP of Product and Solution Marketing at InsideView.
"InsideView uses this comparison in our demand programs and as sales collateral to educate the market about how our customers rate our products as compared to the competition," said Andrews in an interview with Demand Gen Report. "Customer voice reviews are becoming a valuable tool [and serve as] proof points which are key in sales deals."
Other companies such as Quick Base have used review sites to fuel content for lead nurturing campaigns. The app creation software platform recently released an independent product report by TrustRadius that includes user quotes and interviews gathered via the B2B review site. In the report, more than 400 customers candidly share their thoughts on the platform's strengths, areas for improvement and pricing.
"My fundamental rule on marketing is that everyone hates marketing," said Davin Wilfrid, Senior Marketing Manager of Customer Advocacy at Quick Base, in an interview with Demand Gen Report. "No one wants to hear what I have to say about Quick Base. They want to hear from actual customers. They want to hear what they're doing with it, what the value is and what could be better."
Whether it's for reference calls, case studies or fresh content, B2B review sites are ripe with qualified customer advocates. Marketers who embrace their value can grow customer advocacy programs, boost brand awareness and accelerate pipeline.
"Everybody has testimonials. It's almost a requirement of a go-to-market strategy today and they're all going to pick the best testimonial," said Brinker. "So, people have come to recognize that these aggregated, crowd-soured review sites provide a different kind of social proof with quantifiable support behind it that can be incredibly valuable to vendors."