#B2BMX Q&A: Lenovo's Michael Ballard Discusses Company's Intent-Driven Transformation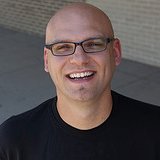 With the amount of data available to today's B2B marketers, it's amazing what programs can be created to engage prospective customers with the right message, via the right channel at the right time. With intent data—insights that show buyer propensity—marketers can dive even deeper to create relevant conversations that move buyers along their journey.
Michael Ballard, Sr. Manager, Digital Marketing at Lenovo, has first-hand experience with intent data and will be discussing the topic in detail during a session at the upcoming B2B Marketing Exchange, taking place in Scottsdale, Ariz., Feb. 20-22.
In an event preview Q&A, Ballard discusses the value intent data has brought to his organization, and where the B2B marketplace stands with finding the balance of traditional and intent-driven insights.
Demand Gen Report: Can you please share a sneak peek into what you'll be covering in your session at the B2B Marketing Exchange this year?
Michael Ballard: As marketers in 2017, we have access to more customer data than any other generation. But what do we do with it? How do we access it? What types of information do we need? I will show how Lenovo is transforming all its digital programs away from its reliance upon 1st party data lead scoring and triggering campaigns from publicly available intent data. Our initial pilots with this strategy has given us some of our most successful campaigns based on leads generated.
DGR: Your session will focus on how Lenovo uses intent data. Why is this type of data valuable to your marketing initiatives?
MB: We need to leave our egos at the door. Our customers don't care about us until they are ready. We need to stop pushing what we "think" they want and wait for them to tell us what they care about. Marketing has always been an interrupter in people's lives … just take a stroll down Times Square. We now have the ability to only show people information they want and when they want it. Marketing now becomes less annoying and starts to become a true partner.
DGR: Other than intent data, what else factors into identifying when buyers are in market and what they are researching?
MB: We still digest traditional lead scoring and use that as a determination point. However, we are starting to blend intent with predictive modeling for look-a-likes. But keep in mind, intent data (theoretically) covers almost all digital activities that we cannot see on our own properties … at least in B2B activities. The bigger question becomes how do we properly blend traditional lead score, with predictive scoring and with intent topic surges? Do we give more weight to one over the other? Only time and historical data will tell.
DGR: What are you most excited for at the B2B Marketing Exchange?
MB: I really enjoy connecting with other peers and getting caught up with what vendors are doing in this space. There is always a lot of great energy at the conference and gets me excited to tackle bigger challenges. The tracks are carefully thought out and provide a great variety of choices. Plus, the venue is always incredible!