Cloudwords Translation App Integrates With Marketo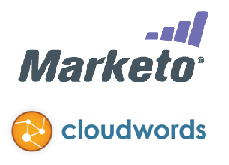 Cloudwords, a cloud-based translation management application, is integrated with Marketo to streamline multilingual content creation and delivery of global marketing campaigns. The integration will enable users to significantly accelerate and simplify the process of localizing all types of marketing materials, according to Cloudwords officials.
The Cloudwords integration with Marketo will initially be offered to a select group of companies prior to expanded rollout in early 2014.
"In order for marketing content to be effective on a global scale and engage multilingual audiences, localization is absolutely a necessity," said Scott Yancey, CEO & Co-founder of Cloudwords. "Leveraging the collective power of Cloudwords and Marketo, localization of marketing materials is easier and faster than ever. Together with Marketo, we deliver the Holy Grail for any marketing executive: faster time to revenue worldwide."
Through Cloudwords' integration, content is moved automatically in and out of Marketo, and project collaboration and approval processes are streamlined, resulting in shorter time-to-completion for the localization of all marketing content.