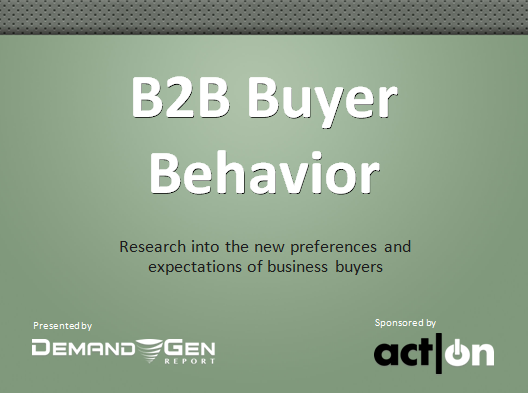 As noted in a recent Demand Gen Report article, B2B buyers are now using a wider range of sources than ever before to research their purchases. It's part of a trend that will have profound implications for sales and marketing professionals.
That's the key takeaway from a recent webinar –  An Exclusive Look Inside The Mind Of Today's B2B Buyer," – that featured speakers from Demand Gen Report and Act-On Software. During the webinar, Andrew Gaffney, Editor of Demand Gen Report and Atri Chatterjee, CMO of Act-On Software, shared insights to the B2B buying process and the impact of the Web.
The webinar detailed results from the third annual Inside The Mind Of The B2B Buyer survey, sponsored by Act-On Software. According to the study, a majority (78%) of B2B buyers start their buying process with a web search. A smaller but still significant number (50%) said they turn to social media/peer reviews, while some respondents said they conducted anonymous research of a select group of vendors.
"One of the game changers in the past few years is the role of the web," said Gaffney. "We've seen this now consistently for three years, and it's becoming much more prominent that buyers do start [the process] at web search."
As buyers continue to rely more on searches and other online research, vendors risk becoming more distant from their customers.
That's why vendors today need a different approach, noted Chatterjee. "Vendors must utilize the technologies available to try to better understand these potential buyers using a different technique," he said. "In the old days, you would have a personal interaction and a sales person who would keep track of what customers were doing that leads to the purchase process. Now, B2B companies can look at the 'digital body language' of potential prospects and use it as they interact with them. "
Social: A Key Touch Point For Buyers
B2B buyers are engaging in online communities, and according to the survey, more than half (54%) have followed group discussions to learn about a topic of interest, followed by connecting with leaders (24%) and posting questions via social channels (22%).
"Social has become a very important part of what any marketer and sales person should be using as they are trying to attract prospects," said Chatterjee. "Listening on these different social channels is also important. We all know there's a lot of data; you'll need help from technology to sift through all of it." 
Added Chatterjee: "On social, you're not only engaging and interacting, you're also finding high qualified leads because when people are on social and they are interacting about a specific topic, chances are they have gone pretty far in the buying process, and engaging with them at that point and time in that social channel is critical."
All-Hands-In Approach
Because B2B buyers want to make sure they are investing in the right solution, most said they have started a project that was initially unbudgeted, and allocated the funds after impact was determined, while only 36% said budget was pre-approved and allocated at the beginning of the year.

Survey results indicate a shift in the sphere of influence with close to 40% who said there are more internal team members that provide their input in the buying process, while 45% said four or more people were involved. In addition, 76% said C-Level/Exec Committees were involved, and approximately 70% of B2B buyers indicated marketing was part of the process. As a result of this growing pool of buying decision-makers, sales and marketing teams report that it takes them an average of 22% longer to close deals.  
"Sales and marketing teams really need to convince decisions-makers that the purchase is going to work for their organization and its stakeholders," said Gaffney. "Our research shows how line of influence impacts purchases, as well as analytics."
Chatterjee said it's more than just the line of business: "As clients market to their prospects, it's also becoming important to know that individuals within different lines of businesses have the authority to make a purchase or weigh in, and potentially veto decisions," he said. "It's also important to communicate to a variety of people in the organization, regardless of their title."
Suggestions for improving the purchase experience, according to survey respondents, include:
Listen more carefully to a buyer's needs;
Offer more information at each stage of the buying process;
Make information easier to access on a vendor's web site;
Emphasize post-implementation training and support; and
Have a consistent and easy to understand pricing structure.

"It's important to understand that marketing does not stop after the purchase," said Chatterjee. "The communication needs to continue even after a person becomes a customer. They need to be 'marketed-to;' this is informational, loyalty-building and it's about becoming a true partner once the person becomes a customer. It's important for marketing to understand that it's their role to existing customers… You acquire customers, retain them, and if they're happy, they will refer their peers. "
Catch "An Exclusive Look Inside The Mind Of Today's B2B Buyer" on-demand!