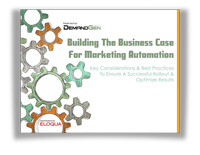 Key Considerations & Best Practices To Ensure A Successful Rollout & Optimize Results 
As more of the BtoB buying process has shifted to the web, marketers are realizing they need deeper intelligence into prospect interests and interactions. Reports on email opens and clicks are a good start, but most marketers are now starting to integrate insights into behavior across web, social and email channels to truly gauge a prospect's information needs and interest level. Now, marketing automation is quickly moving from early adopter use to a competitive necessity for many organizations. Download this E-book to learn the necessities of building an internal business case for the initial launch of marketing automation to prepare your organization to effectively utilize the expanded functionality marketing automation solutions provide.
Demand Gen Report is CAN-SPAM Compliant
Your information will be used for Demand Gen Report marketing emails. This also includes targeted partners of Demand Gen Reprt. To read more about our privacy policy, click here, or to learn about the CAN-SPAM Act of 2003, click here.
If you would like to unsubscribe from future Demand Gen Report marketing emails, please click here.