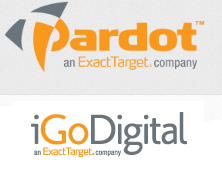 ExactTarget yesterday announced plans to acquire marketing automation solution provider Pardot and e-commerce personalization solution provider iGoDigital.
ExactTarget paid $95.5 million in total consideration for Pardot, including $85.5 million in cash and $10.0 million in ExactTarget common stock, and $21.0 million in total consideration for iGoDigital, consisting of $14.7 million in cash and $6.3 million in ExactTarget common stock.
Based in Indianapolis, IN, ExactTarget is an email marketing and interactive marketing service provider. The company's core business has traditionally focused on providing on-demand software for permission-based email, mobile and social media marketing; its customer base includes both B2B and B2C companies, including major brands such as Home Depot, Papa John's, Toyota and Citigroup.

Scott Dorsey, Co-Founder and CEO of ExactTarget, said the acquisitions will broaden the company's suite of digital marketing products with B2B marketing automation and expanded web capabilities,  including predictive analytics.

The Pardot Acquisition
Founded in 2007, Pardot is a provider of SaaS marketing automation solutions that create, deploy and manage online lead nurturing marketing campaigns. Pardot has client list that includes more than 1,000 organizations, predominantly within the SMB market.
"Marketers around the world are hungry for a lead nurturing solution that integrates with their broader marketing efforts and transcends the current offerings available from point solution providers," Dorsey said in a Pardot press release. "With the addition of Pardot to the ExactTarget suite, we will redefine marketing automation and deliver the most scalable, comprehensive automation solution that helps both B2B and B2C marketers leverage the power of data to connect with customers across email, mobile, social media and the web."
Adam Blitzer, Co-Founder and COO of Pardot, said the company has "emerged as the leading provider of marketing automation for clients in the small business and mid-market" and, as a part of the ExactTarget family, it can provide its clients with more capabilities, leveraging ExactTarget's resources and cross-channel messaging platform.
"Our goal remains the same," noted Blitzer, "to redefine marketing automation and help marketers around the globe achieve even greater results."
The iGoDigital Acquisition
Founded in 2004, iGoDigital provides companies with web personalization solutions that deliver predictive, real-time product recommendations and online guided selling experiences. The iGoDigital SaaS platform offers clients the capability to observe and analyze online behavior and ask questions to "develop highly accurate customer profiles that can power cross-channel personalization and optimization." Brands that use the iGoDigital solutions include Staples, Wal-Mart, P&G, Lids and Scholastic.

"As a part of ExactTarget," noted Eric Tobias, Founder and President of iGoDigital, "we can provide our clients even greater levels of innovation by bringing together the best of our web and predictive analytics capabilities with ExactTarget's cross-channel interactive marketing platform."
Analyst Weighs In On Acquisitions
Forrester Analyst, Rob Brosnan, commented on the dual acquisitions, calling it "a quirk of timing, allowing ExactTarget to drive the marketing technology in advance of Connections, its user conference in Indianapolis next week."

Brosnan said it is a good move on behalf of ExactTarget, citing recent Forrester research: "Our research shows that behavioral personalization is the biggest concern in relationship marketing, and we see that concern expressed across industry verticals, company sizes, and maturity levels," Brosnan said. "Technology providers (and their clients) that only focus on traditional targeting methods will not be successful in the marketplace. ExactTarget needs analytics to add intelligence to its maturing automation platform, both to be more competitive and to establish a pricing beachhead beyond commoditizing email CPMs."
blog comments powered by