#B2BMX 2020 Day One: Creative Storytelling, Alignment & Accountability Take Center Stage For B2B Success
Featured
The world of B2B marketing is constantly changing, with new tools, new ideas and new challenges coming at breakneck speeds. Offering a wealth of speakers and sessions to help marketers stay abreast of the latest trends, the 2020 B2B Marketing Exchange focused on offering actionable takeaways as well as creative inspiration.
More than 1,200 marketing professionals in a wide range of industries gathered to connect and learn from their peers at the three-day event — held on February 24-26 at the Hyatt Regency in Scottsdale, AZ. This year's event featured six tracks: Content2Conversion, Demand Gen Summit, Sales Impact Summit, Channel Marketing, ABM in Action Live! and Marketing Strategy. Here's some of what the attendees learned on day one.
To Get the Green Light From Customers, Tell Stories They Believe
At its core, marketing is about telling stories — but what stories must B2B marketers tell to get customers to say "yes?" In her keynote, titled: Getting the Green Light: How to Build Messages People Say Yes To, Tamsen Webster, Founder and Chief Message Strategist at Find the Red Thread, shared insights into the kinds of stories that get the "green light" from prospects vs. those that get the "red light."
Webster began by identifying the three common red lights that keep customers from buying:
No attention: They don't want what you to sell.
No decision: They may want what you to sell, but they don't buy it — from you or anyone else.
No confidence: They want what you to sell, but don't have the confidence that you can deliver it.
When presented with new information (which includes your marketing message), Webster explained, customers are looking for three things: whether or not they want what you have, whether or not they believe what you're saying about what they have, and whether or not your marketing message validates the other two.
"If we lead with something people want, it's easy for them to say yes," Webster said, citing philosopher Blaise Pascal: "'People are generally better persuaded by the reasons which they themselves have discovered than those which have come from the minds of others." But all too often, she noted, B2B marketers' approach is just the opposite: We try to sell people something they don't want — an approach Webster contends is as likely to succeed as "telling a child to eat his vegetables."
Another tactic, the "challenger approach," relies on convincing customers they are wrong. But while this may lead to a one-time sale, it won't build a long-term relationship, Webster cautioned. "Making people feel wrong by invalidating what they believe is dangerous," said Webster, because "humans are not rational decision-makers; we are rationalizing decision-makers. We tell ourselves stories to justify what we do."
Customers will reject your marketing message if it conflicts with what they want and the story they believe. Instead of widening the gap between what customers want and what you are selling, Webster says, tell a story that validates their desires and beliefs.
"What new information can you provide that's consistent with both the perspective they have and the perspective they want you to have?" As an example, Webster shared an ad from Human Workplaces that targeted prospects' desire to drive engagement. The ad asked, "How can you get more engagement from your team?" and cited research showing that success drives engagement and makes employees happier.
To get the green light, Webster summed up: "Don't build your case. Build their case — the story they would tell themselves."
C-level Executives Rely On Alignment, Accountability, Agility To Meet Modern Marketing Challenges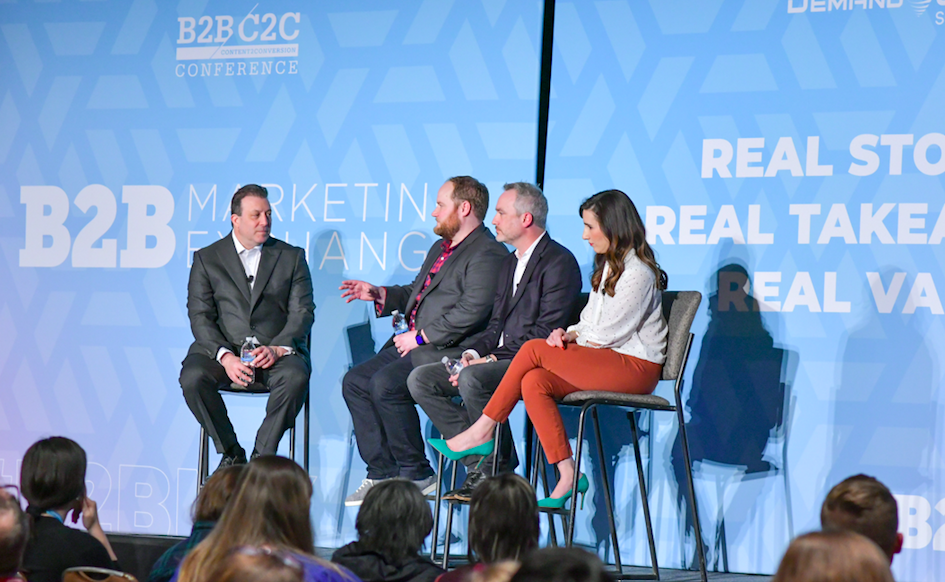 Webster's presentation on aligning marketing messages with customers' wants and beliefs dovetailed into a panel discussion highlighting the importance of sales and marketing alignment. During Executive-Level Perspectives: Aligning Go-To-Market Strategies With Evolving Buyer Behaviors, Moderator Jeff Pedowitz, President and CEO of The Pedowitz Group, led an energetic discussion in which David Alexander, VP of Marketing at F5 Networks; Jeff Marcoux, VP of Marketing at TTEC; and Cristina Brava Olmo, VP of Marketing at Sigma Computing shared their perspectives on some of today's key marketing issues.
When it comes to the eternal marketing challenge of alignment with sales, all three CMOs agreed that establishing credibility and trust with the sales team is critical. "There is no alternative but to be hand in hand with sales," said Alexander. To do that, he focuses on establishing clear goals for marketing's contribution and identifying problems in the process.
At Sigma, "it's really about speaking the same language and being obsessed with the same metrics," said Brava Olmos. Furthermore, Marcoux recommended sending marketing team members on sales calls to listen to what customers are saying: "This gives you an incredible amount of credibility with sales."
With new channels, personas and KPIs springing up every day, Pedowitz asked the panelists, how do successful CMOs prioritize and focus? TTEC has adopted an agile operating methodology. "We never say no, but it's prioritized regularly," says Marcoux, acknowledging that it can be a challenge to balance a focus on immediate needs with longer-term needs.
F5 has adopted agile as well, but annual and quarterly planning cycles are what really keep Alexander's team on track. "Everything is focused on either getting revenues in the door or building for the future. Building a solid plan and working the plan is key," Alexander explained. Sigma is still a startup, with many competing priorities, which Brava Olmos manages by aligning around OKRs at the executive level and waterfalling.
The war for talent is real, and all three CMOs agreed that finding good product marketers is particularly challenging. Panelists also said expertise in marketing ops, revenue ops and ABM is difficult to find.
In fact, the panelists agreed, attracting top talent requires its own marketing strategy. "You have to create a compelling story and vision of where your company is going and why they should get on board," advised Marcoux, who also recommended offering remote work as a way to expand the talent pool while lowering costs. It's also important to continually "re-recruit" your existing team, Alexander said: "Be an amazing leader and invest in people."
When it comes to investing in new technology, all three believe that less can be more. Marcoux notes he often sees teams fail to use their existing technology to its full capabilities. "Mature the tools you have and squeeze the most value out of them before you ask for the new shiny object," he advised.