MarTech 2016: Marketing Technology Ecosystem Expands To 3,500 Companies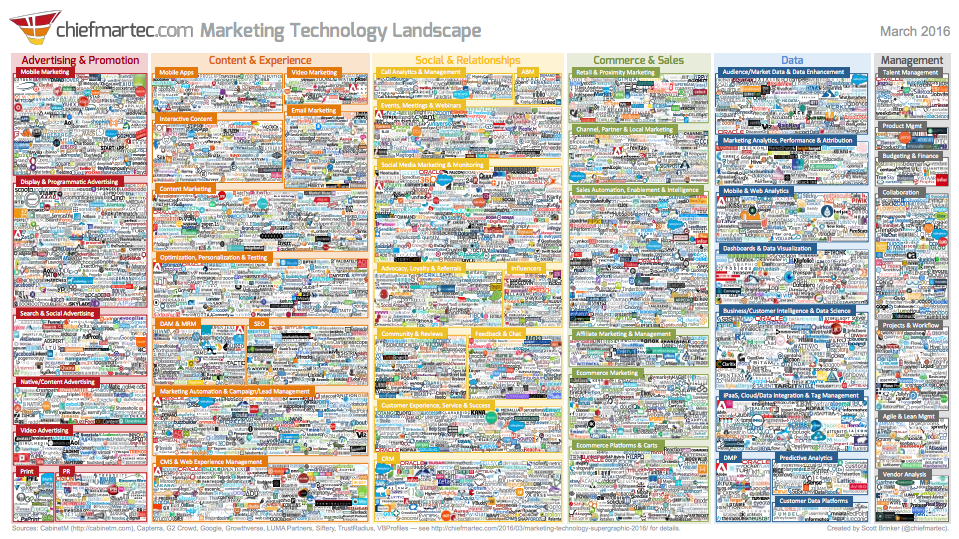 The number of technology vendors that provide platforms and tools for marketers has exploded in the past 12 months to an estimated 3,500 companies total, according to Scott Brinker, Publisher of chiefmartech.com, who announced the new tally and accompanying infographic during his keynote address at MarTech in San Francisco. That is a more than 50% increase in solution vendors compared to the 2015 infographic, which counted 1,876 companies.
"The modern scope of marketing has expanded rapidly, and now smaller software companies can succeed too," Brinker said. "This is why you see so many tech vendors. Companies are consolidating, but new companies keep coming into play."
Brinker noted that technology has grown from suites, platforms, and now it's "multi-platform environments" where each piece of technology has its own specialty that benefits the whole marketing stack.
"Almost every vendor has invested in making it easier to integrate with the tech ecosystem," Brinker noted. "We're getting better at connecting the dots here. It is now feasible for companies to build best-of-breed marketing stacks."
Brinker said the current landscape represents the early stages of marketing technology, with many companies just beginning to experiment. "We are still in the early years of marketing tech being adopted in force," he said. There's a whole world that is catching up on this."
A Pace Layer Diagram For Marketing
As the marketing landscape continues to evolve, Brinker said companies should formulate their marketing stacks with enough flexibility to evolve to meet the needs of the real-time aspects of the business.
Brinker used architecture as a metaphor to explain the process. He said that architects have evolved the way they construct commercial buildings to enable flexibility over time to accommodate peoples' changing needs. He said there is a way to design them to allow for more adaptability.
He said the current "Pace Layer Diagram for Marketing" is similar to architectural layers and includes the following elements:
The foundation, which takes years to implement, including the company's corporate culture, brand positioning and value proposition;
Campaigns that take months to formulate, including the campaign concepts, understanding the audience and developing messaging;
Channels and tactics which develop on a weekly basis, including the media mix, context framing, and building experiences; and
Real-time aspects, including integration with A/B testing and personalization, as well as feedback obtained through social media and other metrics.