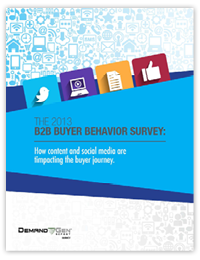 While B2B buyers strategically browse social media discussions during their research, web search remains a top source of information.
Additionally, nearly two thirds of buyers indicate that content had a significant influence on a decision. While the buying process is getting longer and buyers continued to wait to engage with sales, B2B buyers are more satisfied with the process than they were a year ago.
Those are just some of the preliminary results of Demand Gen Report's2013 B2B Buyer Behavior Survey. A total of 150 B2B buyers were involved in a major purchase during the past 12 months, revealing some striking trends observed during the purchasing process.