CMO Council Study: Only 12% Of Marketers Believe Their Content Is Relevant To Their Audience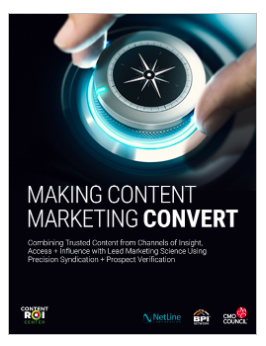 With the widespread event occurring nationwide, field marketers are turning their focus to digital content. However, a new report from the CMO Council states that "most marketing organizations lack the necessary capabilities and processes to keep pace with a growing content marketing imperative."
The "Making Content Marketing Convert" report, done in partnership with NetLine, a provider of targeted B2B content syndication and sales funnel acceleration services, aims to provide insights into the problems marketing organizations face when it comes to scaling content development, distribution and lead conversion. The authors state that most marketers consider their content marketing process as ad hoc and "decentralized." Furthermore, many stated that the process is not focused around customers' needs and interests. Instead, it is controlled by internal stakeholders.
Specifically, the study found:
Just 12% of marketers believe their content marketing programs target the right audiences with relevant and persuasive content;
Only 21% said they are aligned with their sales counterparts in developing and measuring demand generation programs; and
88% of business buyers say online content impacts vendor selection, and just 9% think of vendors as trusted sources of content.
"Marketers must act quickly and decisively to increase the impact, scope, reach and return of their content marketing investments in 2020," said Donovan Neale-May, Executive Director of CMO Council and author of the report, in a statement. "Our research also shows there is a critical need for marketing organizations to bring more discipline and strategic thinking to content specification, delivery and analytics."