SharpSpring Adds Page- And Blog-Building Tools To Its Marketing Automation Platform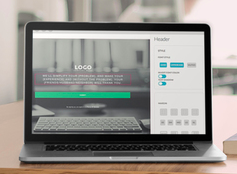 Marketing automation provider SharpSpring announced the launch of a landing page builder and blog builder. The capabilities will enable users to use existing lead data captured in SharpSpring and build pages and emails that adapt to visitors by displaying different text, images and calls-to-action based on their attributes and interests.
The company stated in a release that the new tools feature point-and-click functionality to make it easy for users to build pages and blogs without writing code, or using a developer.
The added capabilities are designed to enable marketers to capture and nurture leads and launch content marketing campaigns to drive sales. For example, the landing page builder can allow users to create landing page funnels — a series of linked pages designed to convert visitors into leads. The company offers a library of funnel templates tailored to seven categories of common business needs.
"Other platforms have similar features in place, but they require extensive training and coding to use," said SharpSpring CEO Rick Carlson. "Our goal was to make building landing pages or a blog easy by giving our customers the tools they need to produce results immediately, without the need to rely on a developer or IT."