TechTarget Unveils Updates To Priority Engine Platform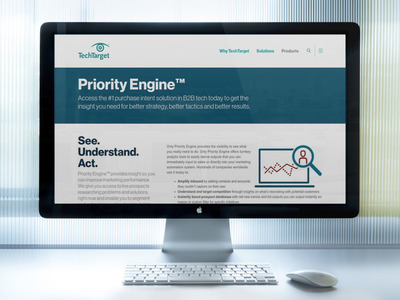 TechTarget, an online media company and analytics provider, has announced upgrades to its Priority Engine platform, a SaaS-based data and marketing analytics tool that provides real-time access to accounts researching enterprise technology purchases in specific markets, according to the company. The new features are designed to help marketing and sales at enterprise technology companies discover and prioritize in-region, in-market accounts and active prospects to accelerate conversions, deal velocity and sales pipeline.
Capabilities of the Priority Engine include:
Access to active named buyers at accounts by ranking prospects by urgency of purchase behavior;
Geo-specific subscription support for North America, EMEA, United Kingdom/Ireland, APAC, ASEAN and India;
Expanded marketing and sales activation;
Integration with marketing automation platforms;
Built-in integration with customer-owned data; and
A new user interface.
"We've moved beyond company-level insights; Priority Engine gives you access to ranked accounts and the actual buyers researching purchases at those accounts," said Andrew Briney, SVP of Products at TechTarget, in a statement. "The unique purchase intent insight available within Priority Engine helps marketers generate demand more efficiently, accelerate ABM effectiveness and deliver a more substantive contribution to sales."