eTrigue Intelligent Demand Generation
eTrigue Intelligent Demand Generation helps your sales team identify hot leads and close more sales faster. eTrigue enables you to create, execute and track email, landing pages and online activities with real-time Lead Alerts, automatic 3-D prospect scoring, and search-based profiling without requiring dedicated staff or IT integration. All inclusive - no costs for users, training, setup, or support. Starting at $1,500/month. Learn more.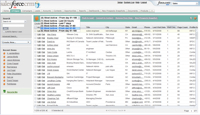 FEATURES/FUNCTIONALITY:
1:1 Email Marketing -  eTrigue's integrated email engine gives you the power to easily create and target audiences large or small with tailored email campaigns designed to generate and nurture more leads and close more sales. You can even track and identify prospects by name without requiring registration.
Prospect Activity Tracking - eTrigue alerts your sales team in real-time, identifying prospects by name with details on which web pages, webinars, emails, and content they viewed and for how long. Instantly alert your sales team to know exactly who's on your web site, for how long and how often they return.
Real-Time Lead Alerts - eTrigue's real-time Lead Alerts deliver extremely detailed prospect snapshots to let one or multiple sales members know when your company and specifically which products are top-of-mind with prospects. Setup up lead alert rules in under 5 minutes, making territory changes quick, and management reports configurable without dedicated resources. 
TARGETED USERS:
eTrigue is a proven, easy to use solution for Sales and Marketing Professionals focused on new customer acquisition, identifying and nurturing existing customers, and providing sales members with real-time prospect data needed to close sales faster.
COMPATIBILITY:
eTrigue provides near-instant, unparalleled integration with popular CRM solutions sharing detailed customer activity information with Sales Teams without requiring them to learn another application. 
DELIVERY/PRICING MODELS:
eTrigue is software as a service (SaaS), so there is no hardware or software to deploy and users can be up and running in minutes.  Pricing starts at $1,500 per month -- determined by the number of contacts in your database. No setup, training or integration costs.
CURRENT CLIENTS/USERS:
eTrigue has been serving customers worldwide including small start-ups ramping first revenue to Fortune 500 companies including Cisco Systems – Fujitsu, Silver Peak, Optioneer, BluArc, Teneros, and Coradiant.
COMPETITIVE POSITIONING:
eTrigue is a robust marketing automation platform designed to provide unmatched real-time prospect information to sales members to quickly identify who's real, active, and ready to buy without the need for a dedicated administrator or high ongoing cost or professional services.
CONTACT INFO:
Contact eTrigue Corp. for a free demonstration of eTrigue: www.etrigue.com/demo or 800 858 8500.
ABOUT: eTrigue:
eTrigue's Intelligent Demand Generation™ Software-as-a-Service (SaaS) executes and tracks powerful multichannel, multi-touch campaigns including email, landing pages, search, web site activity, tradeshow and telemarketing campaigns to deliver qualified leads and close sales faster. With easily configurable 3-D lead scoring, automated campaigns and sophisticated search-based profiling, eTrigue enables marketing and sales teams to work together effectively to close more sales. With flat rate pricing that ensures no hidden costs and requires no dedicated resources, eTrigue provides marketers at companies such as Teneros, Silver Peak Systems and Optioneer Trading with the sales-focused solutions necessary to generate revenue faster and demonstrate true ROI. Founded in 2005 and based in Silicon Valley, eTrigue has been serving customers worldwide including start-ups ramping first revenue to Fortune 500 companies including Cisco Systems. More information is available at www.etrigue.com or by calling 1-800-858-8500.