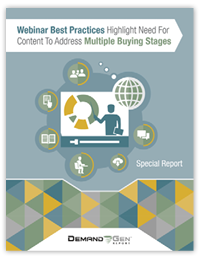 Webinars have become a mainstay of the demand generation strategies of many B2B marketers, as they remain an effective tool to engage prospects. Demand Gen Report's 2014 B2B Content Preferences Survey shows that 67% of B2B buyers have used webinars in the past year to research B2B purchasing decisions.
However, many B2B marketers have focused on webinars as a top-of-the-funnel lead generation tool. Experts advise B2B marketers to develop webinars for multiple stages of the sales cycle to improve their conversion rates. In addition, the messaging needs to be short and highly focused.
Fill out the form below to gain further insight into how you can enhance your company's webinar offerings.
---