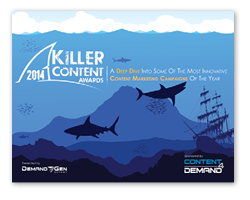 Content has become a highly valuable tool that B2B marketers are leveraging on a regular basis. As a result, buyers now face a daily deluge of content, raising the bar for marketers to differentiate their offerings.
What are the key attributes of content that rises above the rest? Of the 25 organizations that were recognized with Killer Content Awards this year, the trend toward highly visual content was evident. Content that speaks to buyers' needs and reaches them on social media and other platforms that are relevant to them also were key features of successful content marketing campaigns.
The elevation of content quality is a sign of the changing expectations of B2B buyers. Today's on-the-go buyer values highly visual content that can be consumed quickly and easily.
Killer Content Is Buyer Centric
For content to be effective, it has to resonate with the audience. To accomplish this, B2B marketers are utilizing all of the data they have on prospective buyers to personalize their messaging. Personalization helps solidify the connection between the audience and the brand, giving marketers a competitive edge while nurturing prospects throughout the sales cycle.
ADP crafted content for an integrated campaign that highlighted the streamlined experience the company could offer prospective clients. Acknowledging the prospects' pain points, coupled with thought leadership proving knowledge of the Affordable Care Act, the company provided personalized content that influenced more than $20 million in revenue.
Optum360 targeted key buyers with a direct mail campaign that included small gifts for CDI teams during the third annual CDI Week. The nurture campaign consisted of simple emails touting relevant content, and provided invitations to events and webinars based on the CDI theme.
B2B marketers also can tap personalization by designing educational content regarding topics that are timely and relevant to their day-to-day lives. LinkedIn Talent Solutions created a talent and acquisition playbook to help educate their audience and promote thought leaders in the space. The framework acted as an educational piece, and helped generate more than $1 million in revenue.
Social Media Helps Amplify Content Themes
The foundation of a successful content campaign is the ability to extend key themes and takeaways across a variety of channels and touch points.
Social media has become an optimal way for B2B marketers to get their message in front of buyers who may have not have had the company on their radar.
VoltDelta used a single YouTube video to build a full-scale social media campaign with video, blogs and web content. The company analyzed its target audience to decide which channels to target, and used videos to highlight the company's strengths in infrastructure technology, as well as its experience and expertise in contact center design and integration.
Social amplification also can help organizations demonstrate leadership in new areas of the business. VMware sought to demonstrate its knowledge in virtual desktop infrastructure by using social to engage prospects and current customers. The company hosted a live Google+ Hangout, which not only amplified the brand's message, but also created 400 new contacts and gave VMware more data on its target audience.
Multi-Touch = Extended Reach
Not only have B2B buying patterns changed, but there are now many different channels that content marketers must leverage to reach target audiences successfully. Buyers expect the right content to be where they are, so content marketers must adapt their campaigns to meet these expectations.
Sungard Availability Services created a video series based around the holidays, injecting humor into educational content on pain points and industry trends. The company analyzed its audience's content consumption patterns, and used the data to map out a campaign that would promote the content across multiple touch points at a time when the audience would be expecting it. The campaign saw great success, with 3,000 leads generated in three days.
Focusing content around a central theme — and using various formats that are effective at different stages of the buying cycle — is an ideal way for marketers to leverage a variety of channels to reach and engage customers and prospects. Toshiba created a campaign focused on omnichannel retailing, creating assets such as infographics and E-books incorporated with social media promotion. The company generated more than 300 new leads.
Want to learn more about all 2014 Killer Content Award Winners? Complete the form below for exclusive acces to this complimentary report as soon as it's available!
---