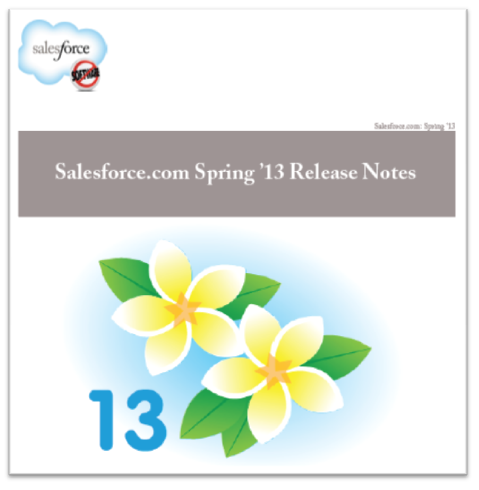 Salesforce.com recently issued a set of release notes that offer a detailed preview into the company's planned Spring 2013 update for its CRM platform.
According to the release notes posted to the Salesforce.com web site, the company's Spring '13 update will include scores of new capabilities across a number of platform components. These include previously unannounced upgrades as well as planned changes already announced during the second half of 2012.
Salesforce CRM components affected by the Spring '13 update include the Chatter social collaboration service, the platform's sales enablement tools and analytics, mobile capabilities, Data.com product suite and Force.com development platform.
Key upgrades announced in the release notes include:
- Expanded global data from D&B for Data.com users in addition to new reporting and data-cleaning features (some of which were announced during the company's Dreamforce event in September, 2012).
- Major usability, search and content previewing features for Chatter, including changes designed to help users manage high-volume social networking feeds.
- New Salesforce.com sales forecasting capabilities that allow salespeople to run forecasts by quarter, up to eight quarters into the future, and to run forecasts using partner opportunity data.
- Analytics improvements that will give users better access to dashboards from Salesforce.com's Touch mobile interface.
According to the release notes, a sandbox preview for the Spring '13 update will be available on January 11.