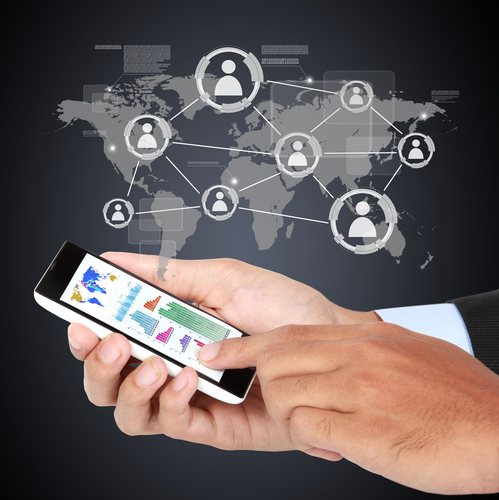 Once a trend leveraged primarily by B2C organizations, social selling has grown into a tactic that is helping B2B marketers and sales people with their lead prospecting, nurturing and qualification efforts.
According to recent LinkedIn research, 59% of buyers would think less of a sales person, and 53% would think less of that sales person's company, if they made a cold call. However, 87% of B2B buyers had a favorable impression of a sales person who was introduced to them through someone in their professional network.
Demand Gen Report's 2014 B2B Buyer Behavior Survey also revealed that 72% of B2B buyers use social media to research solutions for purchase, so modern marketers and sales people are focusing their efforts on those channels.
"Social selling has caught on tremendously worldwide," said Mike Derezin, VP of Sales Solutions at LinkedIn. "B2B buyers, and 84% of B2B executives, source social media to make purchase decisions. The fact is, sales reps can no longer afford to be absent where their buyers are getting educated."
The social selling trend has spurred a steady growth in tools to enhance social selling capabilities. For example, LinkedIn recently announced a stand-alone version of Sales Navigator, a tool intended to help sales professionals stay informed on their leads and accounts, and reach out through a tailored message at relevant times.
The solution also provides marketers and sales leaders with detailed reporting on social selling activity at the individual rep level, giving them the ability to highlight successful reps and identify reps who could benefit from more coaching. The company will be hosting a two-day event in San Francisco — starting September 17 — covering social selling best practices and highlighting other successful social sellers in the industry.
While tools are designed to help alleviate pain points, many sales people are still adapting to the new sales process. "Social selling is a culture, and a lot of people don't really understand the rules of the road," said Michael Idinopulos, CMO of PeopleLinx. "Sales people are used to doing things a certain way, and this is a new era for sales people.
Three Approaches To Social Selling
Peter Ostrow, VP and Research Group Director of the Aberdeen Group, outlined three approaches to social selling:
Collaboration — Leveraging, storing and using an organization's collective knowledge to identify the tactics that work with prospective buyers;
Listening — Paying attention to social media conversations taking place among the people that matter the most to their business; and
Participation — Becoming a thought leader within an industry, and sparking conversations about relevant topics, instead of trying to sell a product or solution.
Content management systems, alongside social scheduling tools that track metrics, play an important role of highlighting what is already working within a company, Ostrow said in an interview with Demand Gen Report.
"Collaboration suites greatly affect social selling because it's an organized place where all of the best content, best practices and lessons learned that colleagues within your organization have already seen success with," Ostrow said. "Now, marketers and sales people can spend less time getting to an answer—and they will end up at a better answer — if people within the company are collaborating with one another."
Social Listening Gives Creates Sales/Buyer Connection
While collaborating internally has its perks, social selling gives marketing and sales people an opportunity to listen to the conversations that their target audience, and other industry thought leaders, are having.
A recent study of roughly 3,000 sales people shows that 80% of top sellers use LinkedIn to create highly targeted prospect lists, and 86% always use LinkedIn to conduct in-depth research on prospects before making contact.
"Marketers and sales people need to be in the know, and have to understand what's going on within the market," said Ostrow."Tracking user-generated content is a great way to learn about what is going on in your market through social media."
It's important for marketers to have their ears to the ground when it comes to obtaining information about prospective buyers, according to Will Spendlove, VP of Product/Content Marketing at InsideView. Listening is how marketing and sales teams can find the relevancy that connects the brand and the prospect.
Spendlove added: "This is how to turn social engagement into revenue. Marketing and sales people need to be responding to those potential customers who are creating these conversations. Engaging and talking with them keeps your brand top-of-mind while also moving the conversation along."
Every B2B company is listening to the conversations going on in the market. Sales teams, not just marketing teams, have to learn what behavioral data is valuable—and ultimately where to go looking for it.
"You want to make sure you are training your reps to listen to what prospective buyers are saying," said Bill Johnson, President and CEO of Salesvue, in an interview with Demand Gen Report."B2B companies need to analyze how that buyer got to that one-on-one conversation, so more conversations will happen in the future."
Social Selling Turns Sales Into Thought Leaders
Staying top-of-mind is crucial in sales, and the best way to do that is to start the conversations that are circling around social media. However, there is a learning curve for many sales people looking to dive into the new thought leader role within their company.
"Participation is where many sales people make mistakes," said Ostrow."It's human nature in the world of sales for people to want to sell and close deals. But most sellers are too impatient and eager to be subtle and patient with their online participation."
The best social sellers recognize that relationships are formed by building trust and sharing insights, according to Derezin. "Trust and credibility is hard to establish if the first interaction is through a barrage of cold calls and voice mails."
Derezin added: "However, trust can be earned from the outset if the seller brokered a warm introduction from a mutual connection. The idea of warm introductions isn't a new concept — what's new is that social media allows it to happen far more often and scientifically."
Marketers need to collect the right data to know who to engage with at any given point, according to Spendlove. "Doing this manually is way too tedious, and a waste of time and resources. It's important to have the connections, and leveraging everyone's connections within the relationship."
While tools can help automate the social selling process, sales people and marketers can't forget the human element, observers noted.
"There is a lot of information flow via social media, but the key to social selling is that it is all about authentic engagement," said Paul Teshima, founder and CEO of social selling tool Nudge Software, in an interview with Demand Gen Report. "You can't get away with high amounts of automation in social media."
Nudge was started by two for former Eloqua co-founders designed to help build relationships by sending a few messages a day — called "nudges" — to target prospects that are considered to be the most valuable to the user. The tool is still in development, and will be available in the imminent future to those who sign up
Content in Social Selling Needs Resonance, Relevancy
The right conversations do not start without the right content. While content marketing is a trending talking point within the B2B community, it is important to emphasize that content that will be leveraged in a social selling strategy have to meet certain criteria for buyers who are doing most of the research on their own.
"Buyers don't have to be educated as much, they really want to engage with people that have similar struggles that they have," said Patricia Hume, president of TrapIt. "Content has to be thought-provoking, and social media is being utilized to help start those conversations."
B2B companies have to think about strategy, and that includes getting in front of the conversations and becoming a thought leader. While it is important to create the conversations and start new trends, curating content is a great way to help build confidence and trust.
"We can analyze conversations and curate our content to meet the needs of the conversations, then go on to answer the questions being asked in a conversation," said Hume."It's highly important to not just rely on crowdsourced content, but you need to know your audience and make sure the content is relevant to the audience and that the right content is going through the channel where that audience is."
In reality, most social buyers are passively observing conversations. The social selling process is about engaging prospects in a two-way interaction.
"Many people rush into [content marketing] without understanding how it is helping make a connection with buyers," said Teshima."You have to tie content to your overall marketing strategy. People engage with people, so empower the people behind it because these people are the ones behind it all. Driving the people behind it helps create engagement that helps bring buyers further along the process."