New Sales Apps Extend Lead Management Further Into Revenue Creation Cycle
The intersection of sales and marketing keeps drawing closer as lead management solution providers continue to roll out new applications which provide sales executives with insights and new paths to interact with prospects.  Both Marketo and Eloqua bowed new tools last week which stretch beyond the marketing automation space into CRM-based, sales intelligence offerings.

Marketo's new release of Sales Insight, a 100% native Force.com social sales application designed to help sales understand, prioritize,and interact with the hottest leads and opportunities. Borrowing a page from popular social networking sites such as Facebook, the Sales Insight tool presents sales reps with "status updates" from the leads and contacts they choose to follow, highlighting the key actions that indicate buying interest.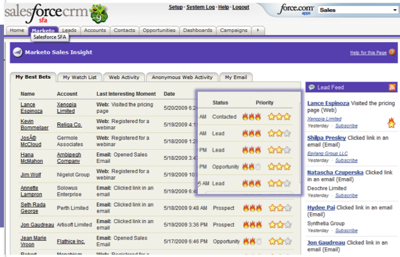 As a 100% Native Force.com app, Sales Insights requires no integration or training with Salesforce CRM applications. The Sales Insight application is designed to help sales focus on the right prospects at the right team, with new capabilities including:
Best Bets and Watch List
Interesting Moments and Activity Tracking
Lead Feed and Instant Notifications
Identify Anonymous Lead Traffic

Phil Fernandez, Marketo's CEO, explained that the Sales Insight launch is another step towards a longer-term vision "changing the way sales and marketing work together" to drive revenue. "Lead management is not about just tools for marketing, but also for enabling sales with a sixth sense advantage at every stage of the revenue cycle," Fernandez said. "Our vision is centered around helping marketing and sales people really get on the same page as part of a single continuous revenue process."
Eloqua also took what it called "the first step in a march toward the next generation of marketing automation technology and a greater alignment of sales and marketing through content, collaboration and actionable analysis," with the launch of Eloqua Prospect Profiler, a new CRM-based sales intelligence tool.  Eloqua Prospect Profiler provides an intuitive graphical summary of prospect online activities and behaviors – their 'digital body language' – that sales professionals can use to focus conversations on topics that will resonate with buyers. 
"Prospect Profiler provides a glimpse into what we see as the next generation of marketing automation," said Joe Payne, CEO, Eloqua. "It combines an intuitive, user-centric design with intelligent behavioral data that provides greater insight into buyer intent."
Embedded in the contact record of the sales force automation system, Eloqua Prospect Profiler simplifies and summarizes the large amounts of data collected by marketing automation systems.  Rather than asking salespeople to read through prospect activity data to prepare for their next call, Prospect Profiler provides an at-a-glance unified, graphical view of any given prospect's Web site visits, form data, email response and search activity. 
Some of the other key features and benefits of Prospect Profiler include:
Customized Detail for drill-down capabilities to show specific activity;
Customizable Time Views to provide user defined views of specified activity periods;
Real Time Alerts - email alerts set up by sales when important triggers occur.
Prospect Profiler is part of the Eloqua Sales Toolkit, a suite of productivity tools that identify opportunities and communicate with sales prospects. The software architecture is designed to easily integrate with Oracle, Microsoft and Salesforce.com CRM platforms.