Turn Your Data Points Into A Data Picture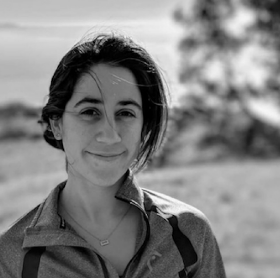 "But how do you know it's working? Show me a dashboard."
You've been there. I've been there. Whether it's your CMO, head of sales, CEO, or just that curious little reporting angel on your shoulder — we all want proof that our marketing is having an impact.
Here's the problem: you know there are dozens of touch points between your marketing campaigns and every buying center that ultimately closes business with your company. Sometimes hundreds. But between click-through rates, opens, web visits and a whole mysterious black box of offline stuff, it's still a struggle for us to communicate the value of our marketing programs on pipeline and revenue.
And most of the tools we use today — from marketing automation to custom dashboards — are all focused on minute interactions with individual people (inherited from the lead-based attribution that relies on a cookied form fill and known contacts, and the B2C bias that runs through most digital marketing tools).
But using tactical micro-metrics like cost per click (CPC), cost per lead (CPL) and click-through rate (CTR), and on-page optimizations is like looking at a Seurat painting up close.
You can count the dots, but it won't help you see the whole picture.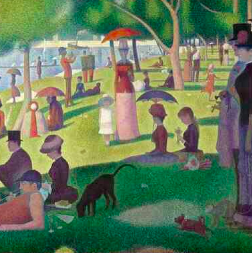 Too often, B2B marketers end up in this scenario: you've measured everything. Your UTM hygiene is pristine. You track CTR, CPC and CPL on every permutation of channel and content or ad creative. And you optimize constantly, culling out underperformers and iterating on your superstar content.
But no matter what you do, your tiny tweaks never quite seem to add up to a more efficient funnel (and no one beyond the digital marketing team really thinks they matter). Somehow, you always seesaw between quality and quantity, and those optimizations don't shake out downstream as better opportunities, faster sales cycles, or any improvement in opportunity-to-close numbers.
So, let's start by admitting it's not just you. Actually, it's very possibly a problem with the way you're measuring success — by hyper-focusing on the small stuff, you may be inadvertently losing resolution on the bigger picture.
Manage What You Measure
If you're measuring minutia, you're going to be focused on minute optimizations. That's fine if you're selling high velocity, ecommerce or consumer, but that's not B2B.
B2B buyers are signing up with you for the long haul. Their livelihoods depend on your product working, so they need to trust you deeply. This applies to your expertise, ability to deliver and ethics.
Start Fixing It By Measuring The Right Things
The account-centric measurement mentality is designed to pull you out of the weeds, so you can understand the impact of complete, coherent, cross-channel programs, not individual ads and campaigns. This is accomplished in two ways:
Turning anonymous web traffic into known account traffic, so you can quantify overall program impact. According to Gartner, there are 9.6 people in today's average buying committee. How many contacts do you typically have on an opportunity? I'm willing to bet it's not 9.6, so odds are high that there are a lot of phantom influencers who aren't getting enough of your attention (and who can slow your deals down unexpectedly late in the game).
Making it possible to track and communicate the revenue impact of higher-level programs across your organization and for yourself. By elevating the importance of open and closed pipeline value, sales cycle time and quantified engagement as the most meaningful leading indicators of true account interest, you're able to communicate outcomes to everyone in the organization, in terms they actually understand and can get behind.
Get To The Metrics That Matter
By using newly-available, account-level web traffic data in this funnel, you're able to focus in on exactly the metrics that mean something:
Engagement, not leads;
Opportunities (also not leads);
Revenue (real deals closed);
Deal cycle time; and
Average contract value.
Revenue Measurement Drives Confidence, Which Encourages Bold Moves & Big Wins
We all know leads can be a little wishy-washy. But one thing that doesn't lie is cold hard cash — that's real revenue. And if there's one thing revenue wins lead to, it's confidence.
When you're confident in your reporting, and know it represents what's really going on with your programs, you can commit to bold ideas and big bets.
And ultimately, that's my brightest vision for B2B marketers — a future where more of us can make bigger bets on memorable experiences, and easily understand the payoff of those bets so we can iterate and make more. But in order to get there, we need to use our data points to create the full, big picture first.
---
Janet Polyakov is the VP of Product Marketing at Terminus, where she runs sales enablement, digital marketing, content strategy and more. She has also served as the Director of Global Growth Marketing and Senior Manager of Acquisition and Retention at Matterport.