Salesforce To Enhance Artificial Intelligence Capabilities With BeyondCore Acquisition
The deal will enable Salesforce to enhance the artificial intelligence capabilities of its Analytics Cloud, CEO Marc Benioff noted in a tweet confirming the agreement.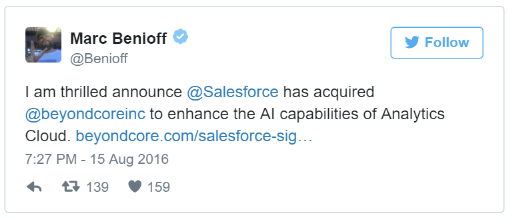 The companies have not disclosed the terms of the deal.
"At Salesforce, BeyondCore will be uniquely positioned to further magnify our impact on the world of analytics as part of the Analytics Cloud, extending smart data discovery and advanced analytics capabilities across the entire Salesforce Customer Success Platform," wrote Sengupta.
He noted that an integration with Salesforce was already part of an upcoming BeyondCore 7 release that the company previewed at the Gartner Business Intelligence and Analytics Summit last March.
This move is just one of many recent acquisitions by Salesforce to enhance the predictive analytics and AI offerings of its cloud platform. They include:
PredictionIO, an open source machine learning server for creating predictive features, in February 2016;
MetaMind, an automated image recognition software powered by artificial intelligence, in April 2016;
Implisit, a predictive analytics solution for enhancing sales performance, in May 2016;
Other notable acquisitions include a $2.8 billion deal to buy enterprise cloud commerce solution Demandware and a $582 million agreement to acquire Quip, a word processing, spreadsheet and collaboration platform that could give Microsoft some competition.