SAVO Group Boosts Sales Enablement Tool With KnowledgeTree Acquisition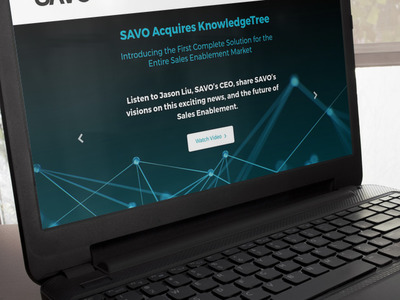 SAVO Group, a provider of enterprise-grade sales enablement solutions, announced that it has acquired KnowledgeTree, a sales enablement tool designed to predict and measure the impact of marketing content on sales. The company said the acquisition will allow SAVO to offer both a basic and advanced sales enablement solution.
KnowledgeTree's predictive analytics engine should complement SAVO's machine learning capabilities to offer smart recommendations and analytics tracking for users, according to SAVO.
"The KnowledgeTree acquisition makes sense on multiple levels," said Jason Liu, CEO of the SAVO Group, in a statement. "First, we view consolidation of sales enablement as inevitable and remain committed to leading the industry. Second, it gives us the most complete product portfolio while diversifying the customers, geographies and industries we serve. It brings predictive analytics technology leadership for use across all our products, giving us the best predictive analytics product in the space. It also expands our domain expertise from both a tech and practitioner standpoint."