Over the past 12 months, we've seen a series of high-profile studies that establish the relationship between marketing automation, marketing ROI metrics and successful lead-generation strategies. This week, there's an especially notable addition: the 2012 Lenskold Group/The Pedowitz Group Lead Gen Marketing Effectiveness Study.
The study (conducted with assistance from Demand Gen Report) polled more than 370 professionals working for B2B marketing organizations. About 80% of the respondents were U.S.-based marketers, ranging from companies with less than $5 million in annual revenue to enterprises with $50 million or more in revenue.
According to the study, B2B marketers report a strong relationship between the use of marketing automation and a series of positive business outcomes, including lead quality, lead quantity, sales-accepted leads and total marketing revenue contribution. A smaller, but still significant, group also report improvements in their lead to closed sale conversion rates and revenue per sale (see chart).

Jim Lenskold, President of Lenskold Group, told Demand Gen Report that revenue per sale improvements linked to marketing automation were less common today, but they also demand closer scrutiny in the future. "Up until now, revenue per sale (RPS) has been harder to track; it wasn't a focus from a lead-gen standpoint," Lenskold stated. "If we're at 28% [of marketers reporting higher RPS] already, then it's definitely worth tracking as more companies get deeper into marketing automation and content marketing."
Overall, approximately 50% of the B2B marketers surveyed said their companies use marketing automation solutions integrated with their sales automation and/or CRM systems. Another 18% use non-integrated marketing automation, while 32% do not yet use marketing automation.
The study found a strong correlation between the use of integrated marketing automation and faster growth. While 50% of the companies not using marketing automation said they expected to grow faster during the upcoming year, 66% of those with integrated marketing automation said they expected faster growth (see chart).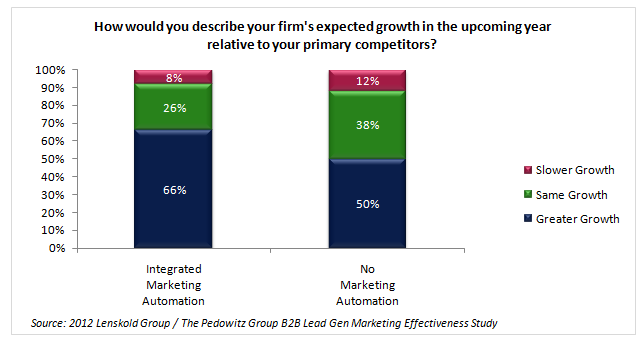 "It's not that companies without marketing automation aren't growing," said Lenskold. "It's the fact that you can push growth expectations up significantly with integrated marketing automation."
Another relationship uncovered in the study involves the use of ROI metrics as part of an integrated marketing automation strategy. Almost 70% of the companies tracking these metrics – defined as those used to track net present value and other profitability metrics – reported an increase in total marketing contribution from their marketing automation investments. Just 19% of the marketers using only traditional, non-financial metrics reported such an increase.
The study also looked closely at the marketing automation and lead generation practices of self-described "highly effective and efficient companies" – a top-tier group that included 11% of the marketers surveyed. Within this group, 68% reported using marketing automation, versus 49% of all marketers. In addition, 46% of the highly effective marketers reported "strategic-level support" for their marketing automation efforts, versus just 18% of all other marketers.
Some of the key traits associated with this group included:
- Being more likely to report strengths in their organizational structure and processes related to lead generation, compared to other marketers;
- Being about three times more likely to drive repeatable and predictable lead-to-sale conversion rates;
- Reporting a better ability to manage their marketing funnel, measuring incremental sales and revenue, providing a pipeline forecast and being accountable for revenue goals.
The report also noted that while marketers are generally satisfied with their automation efforts, most also said they saw room for improvement. The most common challenge, cited by 16% of the marketers surveyed, was a lack of available content for their campaigns.
Additional information on the 2012 Lenskold Group/The Pedowitz Group Lead Gen Marketing Effectiveness Study is available here.