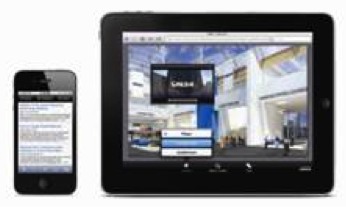 ON24, Inc. debuted its new MOVE (Mobile Virtual Environments) this week, a technology that allows the company's webcasting and virtual event platforms to detect which device a user is on and then automatically provide a customized experience.
The new, comprehensive expansion of the company's mobile strategy was driven by a dramatic increase in the number of users viewing online events on iPads and mobile phones. On24 said mobile usage of its webcasting platform grew 300% in the last year, and the company expects that number to double again by this time next year.
"ON24's mobile product strategy brings our virtual communications solutions to life on the iPad and other mobile devices," explained Jayesh Sahasi, ON24's Chief Product Officer and CTO. "With ON24 MOVE, mobile users can have as rich and immersive an experience as they have come to expect with all of our other products. ON24's solutions are truly optimized for tablets and mobile phones; they aren't just a 're-display' of the desktop version."
As part of ON24's expanded mobile product strategy, tablets now provide an HTML5-based, immersive 3D virtual environment, and mobile phones deliver a content-focused compact view.
With this device-aware support for viewing virtual environments, the graphical appearance of locations and booths is now available for viewing on a tablet—without the need for the additional customizations required by other vendors. 
 In addition to auto-detection of phones and tablet devices, new features include:
·         Immersive 3D virtual locations
·         Touch-based navigation
·         Videos and animations
·         Group chat
·         Content search
·         Booth representative listings
 "Our clients don't want to manage multiple virtual environments for different devices or set up a complex environment where they need to worry about selecting every nuance of the interaction and graphic for each device," Sahasi added. "They want a centralized approach, with tools that make well considered, sensible decisions, so that their audiences automatically get the right view and the best experience."
ON24 pointed to Eli Lilly as an example of a customer embracing mobile access. The company conducts a series of webcasts to communicate regularly with geographically dispersed and on-the-road sales team members, and has reported that the majority of attendees now view its live video webcasts on their iPads.