The Customer Journey In A Post-Trump World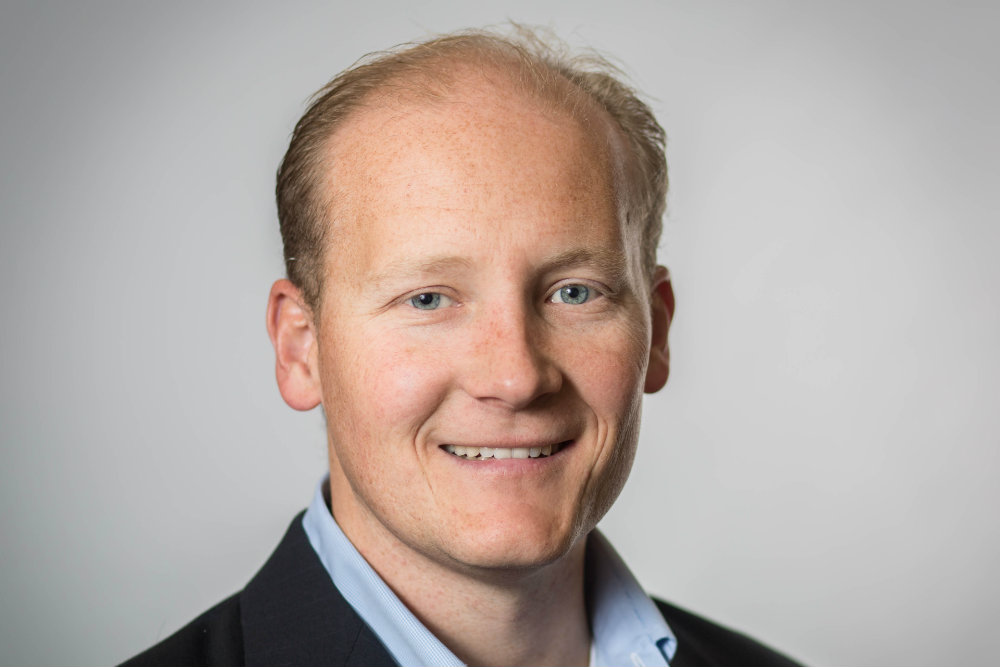 It's a post-Trump world and we know that a few well-placed tweets can catalyze an entire online movement … or leave a permanent scar.
Of course, Trump's secret isn't that he's the world's wittiest tweeter or most original thinker — it's that he knows his audience cold and never misses a chance to needle their pains and stir them into a frenzy. He's a master brand builder.
For marketers, the winds of opportunity are blowing. While the relationship between brand and customer experience has always been mutually reinforcing, never has the latter been so publicly visible and instantly impactful. Succeed in creating an authentic and memorable online customer experience and brands can reap the benefits of shares, shout outs and no-cost growth.
Fail to do so and miss quick chances to trump the competition. Or risk falling victim to the unrelenting Millennial consumer: a thrifty, inquisitive and self-service generation who Googles instantly and expects a 1:1 response 24/7 (bots can be ok).
The 2016 State of Customer Journey Marketing report shares how 505 US-based marketing decision makers are investing for growth in 2017: which tactics are working, what headwinds they face and practical takeaways to grow online. Most notably, 71% of top marketers invest in formally mapping and understanding their customer's journey — paying dividends for acquisition, monetization and retention.
Where Are Marketers Investing?
In 2017, marketers are investing first in online ads, followed by customer events and marketing, email marketing, social media ads and content.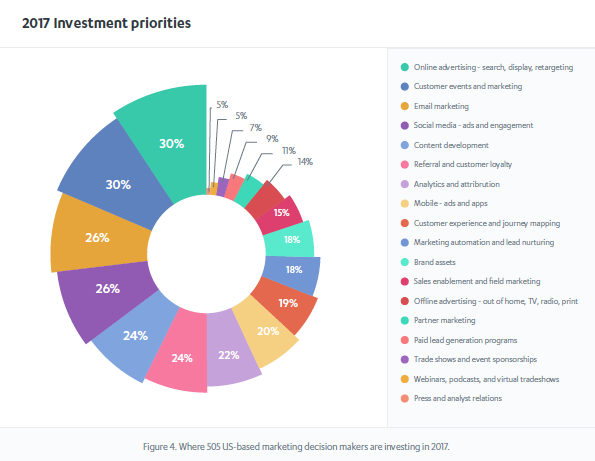 High performers focus more on the customer experience than ads: They invest in customer events and marketing (35%) and referral and loyalty programs (29%) to get ROI from creativity, proof points and buyer incentives to drive referrals and repeat purchases.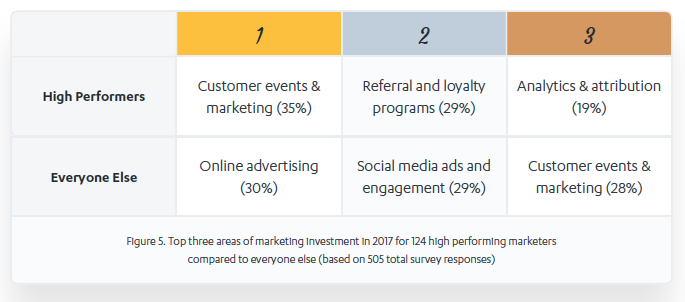 High performers are also investing in analytics and attribution (28%). As budget allocation shifts from advertising to customer-focused marketing, marketing leaders must hire math men over mad men to analyze behavioral and purchasing data to accurately segment and target their marketing, and attribute spend ROI accurately.
Proven growth tactics that benefit from having math men include:
Influence of social media engagement on leads and buying decisions;
Pre-target or retarget visitors with relevant website content and ads;
Use content and lifecycle lead nurturing to educate and "warm up" early buyers;
Win advocates online by leading virtual meet-ups and live discussions;
Drive organic traffic through search-optimized content; and
Use multiple channels to influence buyers.
What Tactics Are Working?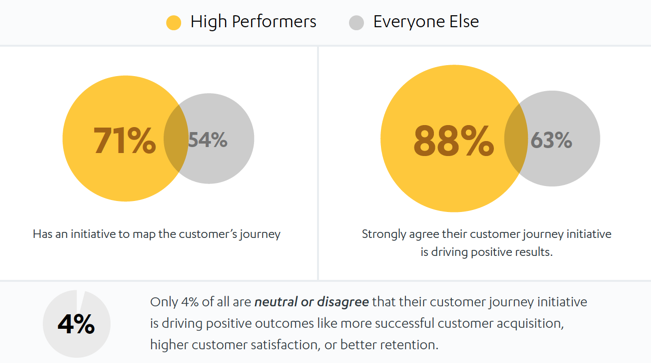 An astonishing 88% said the customer journey initiative is driving better customer acquisition, satisfaction and retention. Benefits of having a journey initiative include:
Faster revenue growth: Only 41% of high revenue-growth companies have not mapped their customer journey, compared to 82% in slower-growth companies.
Strong results and an opportunity for SMBs: Over two-thirds of respondents strongly agreed their customer journey initiative produces big results, yet only 45% of small businesses have launched one.
Getting personal with customers: 84% of marketers who map their customer journey also personalize customer marketing; half personalize based on customers' online behavior and buying history.
Marketing automation software adoption is up more than 4X in two years, with 57% of all marketers (and 71% of high performers) now reporting that they use it — compared to 13% in 2014. The biggest impact is:
Generating leads from acquired lists (40%);
Automating sales outreach emails (38%);
Nurturing warm leads to be sales ready (38%); and
Onboarding new buyers (35%).
Marketers who nurture contacts at least weekly are almost twice as likely (38%) to hit their goals, compared to only 20% for those in touch every two to four weeks.
Engage consumers consistently across channels: Outside of sending emails, social media is the dominant channel used by 70% of marketers to engage their audience, followed by direct mail and SMS.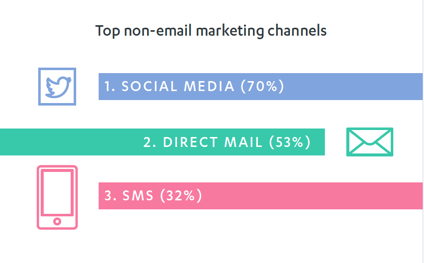 Nearly everyone is personalizing: 81% of marketers are using data to personalize their marketing, and are 54% more likely to say it's resulting in a better customer experience.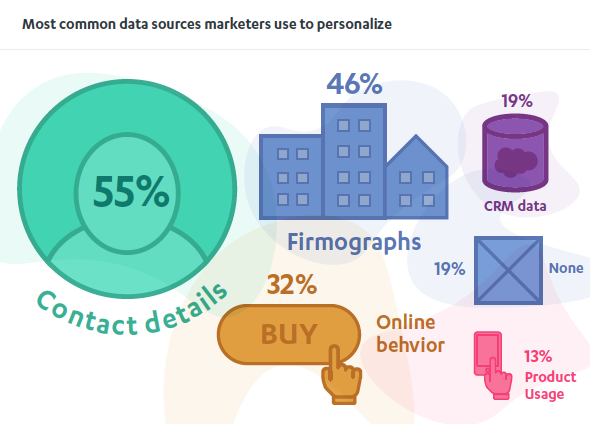 The Challenges Ahead
Many marketers are feeling the squeeze in today's uncertain economic climate, with 48% saying budget constraints are their top challenge. Generating new leads ranked second, followed by converting leads into sales.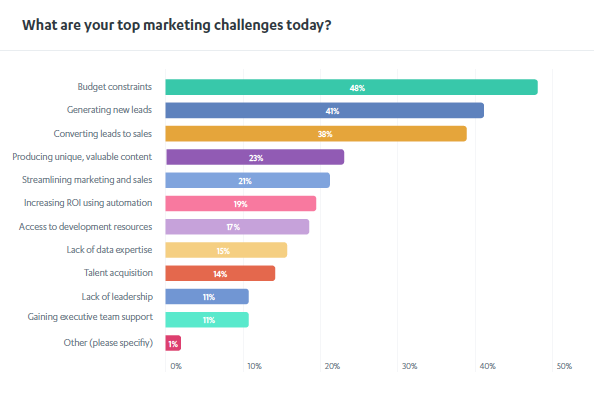 What can marketers do to overcome these challenges? They can:
Repurpose content: Run a quick content audit and look for ways to repurpose existing content into different mediums.
Automate online review requests: Ask your net promoters and best customers to review you on Yelp, G2Crowd or GetApp. LiveChat, a live chat SaaS service with 15,000 customers, received 100+ online reviews and multiplied word-of-mouth doing so.
Nurture leads to sales readiness: Win the trust of early-stage leads by nurturing with educational content and proof points until they're clamoring to buy. For later-stage leads already on the brink, nudge them with targeted and personalized offers, like a free consultation or discount.
Focus on retention: Acquiring new customers costs far more than retaining existing ones. Set up automated emails to re-engage users or have a success rep reach out.
---
Guy Marion is CMO and Head of Growth at Autopilot. He is a regular contributor in Forbes, VentureBeat, and at events like Dreamforce and Growth Marketing Conference. This State of Industry research report was conducted in partnership with Cint.com, and is available for download free of charge.