#B2BSMX Day 2: Customer Centricity, Digital Transformation Key Focuses For Businesses Rethinking Marketing Operations, Revenue Strategies
Featured
The challenges for CMOs in today's B2B marketplace continue to multiply everyday as they struggle to promote digital transformation and customer-centricity to ultimately drive revenue. However, there has never been more opportunity for marketing to take a seat at the executive table as a respected business partner.
This was the main theme going into day two of the B2B Sales & Marketing Exchange in Boston, where more than 1,000 senior-level marketing and sales professionals across a variety of verticals learned from industry experts and thought leaders on how to drive success within their organizations.
For Dr. Debbie Qaqish, Principal and Chief Strategy Officer at The Pedowitz Group, B2B CMOs must leverage strategic marketing operations to address their challenges. This, in turn, may require businesses to take what she describes as a "Marketing Mulligan," which is an opportunity for a do-over to increase performance in revenue, digital transformation, and customer-centricity via their strategic marketing operations function.
"The way you reconcile the good and bad in today's marketing environment is to take a Marketing Mulligan," Qaqish said during her keynote. "The definition of 'crazy' is to do the same thing [repeatedly]and expect a different result. It's time to reimagine marketing; you cannot keep doing things the same way."
More than half (59%) of companies now have a dedicated marketing ops group, according to Qaqish. However, she went on to explain how many businesses believe their marketing ops function is reactive and are often labeled as button pushers. "Even though only a third show pipeline and revenue metrics, I can promise you that you'll have to do this in the future," Qaqish noted.
Qaqish shared a variety of examples on how B2B businesses are taking a Mulligan and setting up their marketing operation functions, including one from Microsoft that included the company's tech infrastructure and how it supports various aspects of the marketing business. Ultimately, Qaqish concluded that a Marketing Mulligan might be a necessity for most marketing operations functions in the imminent future.
"Financial accountability for the CMO is essential to gaining that true 'C' spot at the table," Qaqish said. "With financial metrics accountability, the position of the CMO becomes board-room relevant."
Sessions throughout the rest of the day provided a variety of actionable insights to help organizations address their revenue, digital transformation and customer-centricity challenges with the right processes and tactics.
Tim Riesterer Spotlights Importance Of
Differentiating Messaging For Acquisition Vs. Retention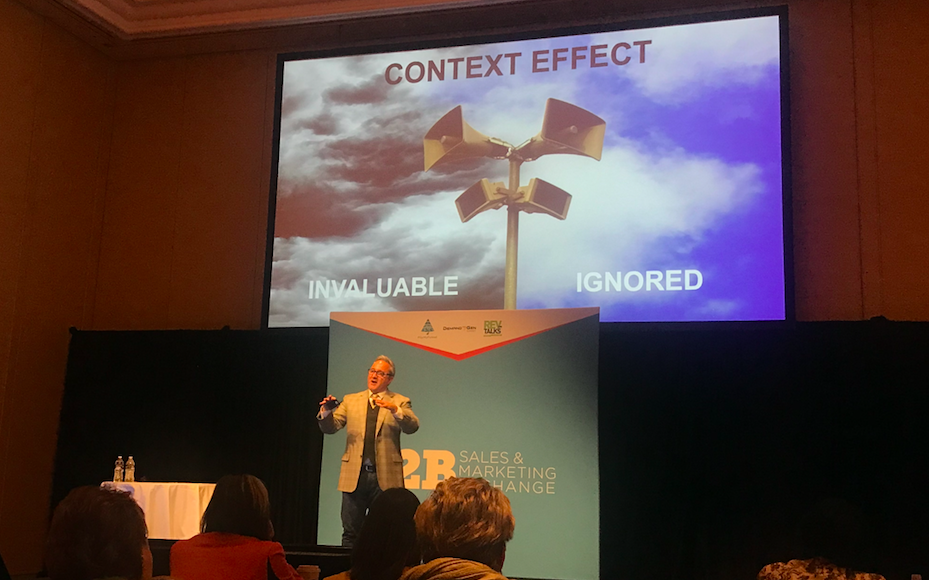 The modern B2B buying experience is extremely complex, and delivering authentic, personalized messages is critical in acquiring new business and keeping existing customers. But what most people do not realize is that messaging for retention and messaging for acquisition cannot be the same.
This was the theme of Corporate Visions'Chief Strategy Officer Tim Riesterer's keynote at #B2BSMX, where he highlighted the importance of differentiating engagement.
"When you go out and try to acquire a new logo, realize you are only creating and driving only about 20% to 30% of company revenue,"he said. "Sixty-two percent of the market we work with provides the same messaging and campaigns to new logos as they do to existing customers.But this can actually backfire on you."
According to Riesterer, the reaction and perception of a stimulus, like messaging, is affected by environmental factors around us.
"The context your customer is in has a great impact on your products or services than who they are or what the product or service is," said Riesterer. "Customer centricity is less about who your customer is and more about the situation they're in. We tend to overestimate the disposition of our customers and underestimate the situation of our customers when crafting messages … It's not your product or service; it's the situation they're in."
He continued to discuss the "status quo bias" — or the four reasons why people do not change their mind:
Preference stability

— Once we make a decision

,

we establish stability.

Cost of change

– The change is where the cost is. There are additional costs

,

and it requires change management. It will cost me time and money.

Selection difficulty

– People believe everyone is offering the same

,

and you must overcome that sameness.

Anticipated regret and blame

— We anticipate, project and prophesize that we will regret this because it w

ill not

go well.
"It's not a buying journey, it's a deciding journey," said Riesterer. "Humans don't make purchases, they make decisions. The story needs to recognize that persuasion is not possible without uncertainty. Show them there is a cost to stay here. People move away from loss and cost much faster than they lean toward a gain … You must show a clear contrast. You must have a good proof story – before and after. Reinforce the biases that keep them to the status quo because you are the status quo."
New England Biolabs

Balances Reputation

With

Innovation To Bolster Customer Experience
New England Biolabs (NEB), a 45-year-old supplier of life science research, has been leading its industry in not only offering high-quality products but unique customer experiences that keep the brand top-of-mind within the community.
For Andrew Bertera, Executive Director of Marketing and Sales at New England Biolabs, reputation is what helps the company continue to experiment with new go-to-market initiatives designed specifically to give potential customers a memorable experience.
"Customer experience is not only the source of excellence for marketing," he said. "Itis the source of all competitive differentiation."
During the closing keynote of the show, Berterashared a variety of things that NEB coordinates differently compared to other businesses, including:
Continuing to offer a printed version of

its trade magazine, while adding digital opportunities

through

augmented reality that can be utilized alongside the magazine with a mobile app

to better understand reader preferences

;
Having

the research product staff act as the company's customer service team. This "brings the production side to the customers" while also providing greater feedback on the products and services

; and
Offering

a variety of digital apps and tools designed to simplify researchers' workloads.

Bertera

said that these free tools alone "drive a quarter of all traffic" for the company.

NEB

is also testing a new Amazon Alexa assistant to help researchers in their tests.
"Intimacy is the ultimate customer-centric model resulting in long-term customer relationships," Bertera said. "We now have a direct connection between customer success and revenue."
Bertera went on to explain the three key areas of customer experience that should be prioritized when looking for new ways to engage customers in a relevant and relational way:
Ease of Use:

b

uyers want answers as easily as possible;
Speed: how quickly buyers can get to the answer they're looking for; and

Personalization: buyers expect to be known, and you should know your buyer before you engage with them.
Bertera concluded that he truly believes that, "if you have a good reputation, you can experiment with new technology fairly easily." Therefore, he suggested businesses find areas where they believe they can address the ease, speed and personalization of a buying experience and continue to improve it. For example, he highlighted how his teams are always constantly testing new channels — such as AR and voice assistants — to see how buyer education is changing.
"We don't know how our customers like to learn, so we've been playing with communication tools and analyzing engagement to understand that preference," Bertera said."Our marketing mix keeps getting broader and broader."