How Text Messaging Apps Could Apply To B2B: Marketers Eyeing New Channel To Engage Next-Gen Customers
Featured
Messaging applications are a common appliance on smartphones today. Facebook Messenger, What's App and Slack all play an important role in both personal and professional lives. In fact, a 2017 eMarketer study found that more than three-quarters (76.3%) of the world's smartphone users use a mobile messaging app.
Now, this trend is expanding into the business world as B2B gravitate to quick, authentic engagement mediums as they research new solutions.
"We now see eight billion messages being exchanged between people and businesses every month," said Stefanos Loukakos, Director, Head of Messenger Business for Facebook, in discussing the expanded use of the Facebook Messenger app during Facebook's annual F8 Developer Conference held in early May. "That is 4X the amount of engagement we reported just a year ago. 2018 is going to be the year of scale for Messenger because developers are building experiences that help businesses drive real business outcomes … It has never been easier to create a presence and build an experience on a messaging platform."
For the B2B ecosystem, messaging apps are just beginning to flourish as a unique way to connect with customers and prospects. As more Millennials take on leadership and key stakeholder roles, B2B organizations are looking for new ways to engage customers or prospects that align with their day-to-day communication preferences. For many, short-form, quick-hitting conversations on a messaging platform — or being a part of an advocate community where they can socialize with peers through casual messages — can become extremely valuable and even preferred compared to email.
"We used to rely heavily on email; that was how we used to talk to our customers," said Alexandra Shapiro, CMO for Intercom, a customer messaging platform, in an interview with Demand Gen Report. "[Buyers] get a lot of emails and now learn to tune them out. Messenger apps solve that. It allows [organizations] to deliver personalized communication right when customers come to a website, or when prospects engage with content."
Intercom is designed to help customers use bots and messenger apps to capture more leads and qualify and schedule meetings with sales. The company's B2B customers include Tradeshift, which saw a 32% increase in qualified sales opportunities and shortened sales cycles by 18 days with messaging; SalesLoft, which used Intercom to help drive 40% of booked sales demos; and ProsperWorks, which uses Intercom to generate 25% more leads, creating 19 new opportunities and $36k in annual recurring revenue in their pipeline.
"More businesses are using messengers as an additional communication channel to contact, acquire and engage their customers and prospects," said Shapiro. "I think it's significantly changing how marketers and sales teams engage with prospects."
Other B2B companies, such as CA Technologies and Okta, have also found unique ways to interact with their customers and prospects by creating communities of peers. Whether it's adding an extra channel on Facebook Messenger or developing an advocate community via Slack or other means, these brands are building unique case studies with text-based conversations.
CA Technologies' Connecting With Clients Via Messenger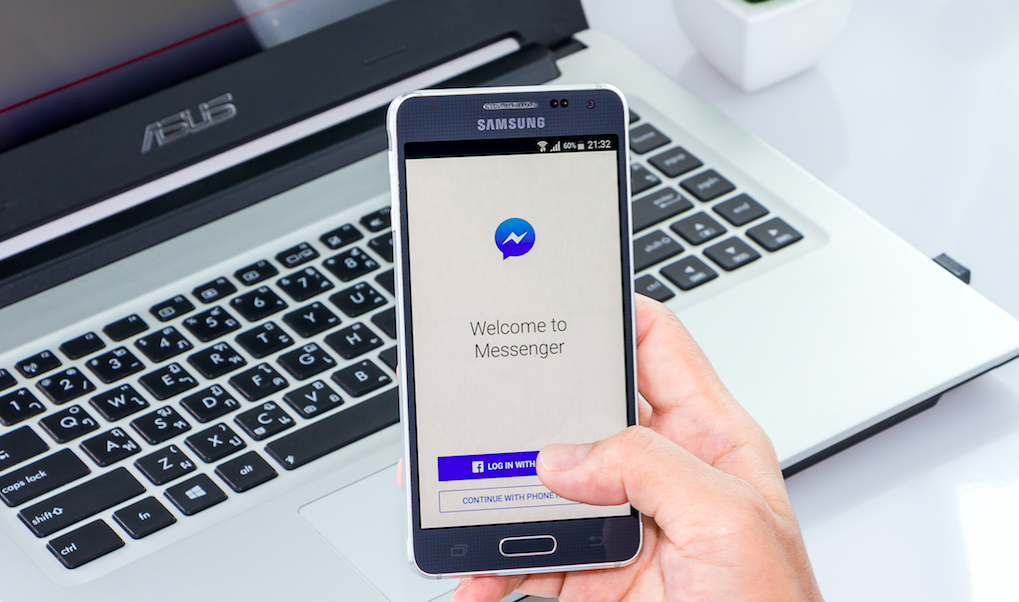 B2B companies today are taking pages from their B2C counterparts and turning to messaging apps to connect with clients and gain unique feedback.
Andrew Spoeth, Director of Digital Marketing for CA Technologies, and his team have taken what they've learned by communicating with customers and prospects on social channels to create a community on Facebook Messenger. Early results of a pilot program have shown a more than 80% open rate compared to email blasts.
"The reason we're investing in this is because it's cool and kind of different," said Spoeth in an interview with Demand Gen Report. "We think that in three to five years, this may become not just an interesting project or novelty, but rather it could become alongside email and phone calls — a key way that B2B companies interact with their customers and prospects. As the younger generations move and occupy more of the workforce, and as the messaging apps get friendlier to marketers and offer more tools, we think this will play a key part. We don't know what it will exactly look like, but we sense there is a momentum."
CA Technologies leverages Chatcast, a SaaS-based platform that enables companies to broadcast news and media content directly to customers across messenger apps such as Facebook Messenger, Twitter Direct Messages, WeChat and more. Spoeth said the company has helped him and his team develop a pilot program around this Messenger community. "They've helped us develop a strategy and provide a technology to allow us to use Facebook Messenger and Twitter Direct Message," he said. "The former is the most interesting for us right now. We look at it similar to how we've used email marketing in the past."
Spoeth emphasized that it's important to first develop a content strategy for Facebook Messenger (or whatever other channels you are using). He said to think about what kind of content is fitting to the medium and to your audience. Then, once you have that, think about the growth tactics. How are you going to acquire more subscribers?"
In CA's case, the company worked with Chatcast to implement videos into its strategy. "We've crafted a strategy around an exclusive video from one of our executives that we send to our subscribers via Facebook messenger," said Spoeth. "They get that in their Messenger inbox before they can get it anywhere else. They get it instantly, and can view it right in the stream."
Spoeth added that there are other ways companies can experiment with content via messaging platforms.
"Depending on your business, you may have other opportunity as well in terms of your content strategy," he said. "You could do polls or questions — that's a novel way to generate meaningful engagement. It could be an offer or coupon. Let's say you're putting on an event and you want to drive further subscribers and reward people that have subscribed. You can offer coupons through the channel, which are exclusive to that channel. You can drive engagement with a way of tracking and connecting the dots between your CRM, which is capturing the coupon transactions and the medium."
Once a content strategy is developed, Spoeth said it's important to continue to get people to sign up. "The first place we're going to do that is via social channels like out Facebook page," he said. "Since it's so related to Messenger, that's a good place to find new subscribers. Then as we get that wheel cranking, we put it on our website, and start including the call to action in places like emails and so on."
Messaging Through Community Platforms
Mark Organ, Founder and CEO of Influitive, an advocacy and engagement software, and previously one of the founders of Eloqua, believes that allowing your customers to participate in all aspects of your go-to-market strategy is "the future of where marketing is going." Communicating with customers whether it's through messenger platforms, or creating communities on Slack or other platforms, can "give them that environment where they can feel special and important and that they're really contributing to something," he said.
For Okta, an identity management tool, interacting through a community with their customers helped them to nail down their brand voice. The company uses the Influitive platform to create this community, and uses it to ask customers casual questions that have led to unique campaigns and ads.
"[Okta] would put out a challenge saying silly things like: 'If Okta was an animal, what would we be?'" said Organ in an interview with Demand Gen Report. "It was a way to get into the heads of people, to understand the mental model that people have had about the company. Then they put in challenges like: 'If you were to do an ad what would it look like?' And they had these network engineers that would mock up and create ads for Okta. One became a huge hit that resonated with customers. Okta has built upon that messaging to power the way they go to market."
Messaging platforms or using communities to have casual conversations is changing the way B2B organizations enhance relationships with customers. While email marketing still plays a key role, messenger apps have the potential to generate more engagement and impact.
"This move towards more authentic communication is driven by technology and also driven by a Millennial generation that has a hunger for it," Organ said. "Millennials are now the dominant group in terms of employment and purchasing. That's the way they like to receive information — quick, authentic and transparent communication from companies."