Marketers See Promise In Combination Of Predictive Intelligence And Account-Based Marketing
Featured
Marketers eager to capitalize on the strength of predictive marketing are driving their vendor partners for additional strategies and capabilities, and account-based marketing (ABM) tops their wish list. While many B2B marketers are still figuring out how best to deploy ABM, some early results combining predictive intelligence with ABM are promising.
With more than one-third (37%) of respondents to Demand Gen Report's 2016 Demand Generation Benchmark Report looking to add ABM in 2016, it is clearly a strategy that is resonating with marketers and sales teams alike as they turn their attention to key accounts.
Several predictive intelligence providers have begun to answer that demand by offering additional ABM expertise to B2B marketers — whether organically or through partnerships.
Michael Ballard, Senior Manager of Digital and Commercial Marketing at Lenovo North America, said he definitely sees this trend in his business.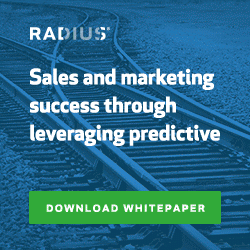 "Not only are many predictive companies leaning towards providing account-based leads, but many ABM companies are showing partnerships with predictive companies," Ballard noted. The reason is that for larger accounts like his with so many contacts, "it takes a city to make a purchase."
ABM fires on all cylinders when you have orchestrated the message between all relevant contacts at that account, according to Ballard. "However, the reality is we rarely know everyone at the account. To make matters worse, we rarely can digitally pick up — through our automation systems tracking our own properties — if half those contacts are showing buying behaviors."
Ballard explained that account-based marketing strategy fills in the gaps.
­­­­­­
"The ABM approach to predictive looks at the activity of the account as a whole and looks for the contact gaps," he explained. "If the company is bubbling up in the predictive models, but the contacts on record are not, then it's time to find some net new contacts at the account."
Other marketers like Ballard are seeing success with a combination of predictive analytics and ABM strategy. According to Chase Shiels, CEO and Co-founder of 4ME Group, a lead management and CRM provider, predictive intelligence layered with account-based marketing has given his company the ability to target with precision.
"We're much more effective at identifying businesses to target and also determining if someone is a fit pretty immediately on our initial discovery calls," Shiels said.
4ME Group has only been using predictive analytics for three months, but Shiels said it has already had tremendous impact. He added that predictive has "caused us to reframe how we think about marketing and, more importantly, overall sales strategy. The biggest thing predictive has helped us with is looking at our strongest markets by characteristic rather than narrowing down on some broad stroke like a single industry. You're more intelligent about determining where to focus." 4ME Group works with Radius for predictive intelligence.
The convergence of predictive intelligence with ABM is natural to industry experts.
"They just go together," said David Raab, Principal, Raab Associates. "As ABM has risen in prominence, it's made sense for the predictive guys to [gravitate there]. Everyone is climbing on the ABM bandwagon."
Laura Ramos, VP-Principal Analyst at Forrester Research agreed. "They go together really well. You use predictive to find target accounts, and then intent data, and then ABM," she said. "The predictive companies are all latching onto ABM as the use case; they've gone from lead scoring on steroids to focusing on the right accounts."
That bandwagon now includes several predictive intelligence companies that have recently made news with their ABM strategies.
SalesPredict and Lattice Engines both recently announced they've debuted predictive solutions for account-based marketing. Other predictive vendors have been rolling out account-based strategies in the last six months, including Everstring, Mintigo and 6sense.
The momentum has clearly been building for some time, even if it hasn't yet been productized. For example, at Dreamforce15, Radius CEO Darian Shirazi's keynote presentation was titled "Predictive Analytics for Effective Account Based Marketing." During the session, he described the company's approach as an outgrowth of predictive strategy.
"People really want to find ways to use existing CRM data, external data, and software to predict which segments of customers are going to be best for them, and which segments of customers are going to convert best for them for the future growth of their business," Shirazi said in his remarks. He called ABM "a holistic approach to going after accounts." Because predictive gleans information about accounts, the combination of strategies is natural, he said.
Shirazi detailed an example in which First Data, a major credit card processing company, was able to prioritize and segment its best B2B customer accounts on a daily basis and hand them off to its sales team by using Radius.
Convergence Promotes Best Practice Discussions
Ramos and Raab indicated as these strategies continue to converge, marketers will also carry on experimenting with the best ways to use and deploy it. Ramos said the interesting dialogue right now is around "what really is ABM," and "when do you use ABM and when do you use more conventional marketing automation or general digital marketing."
Ballard noted that his company piloted predictive both on the contact and account layers. "We are still working through how best to use it for success but haven't found the secret sauce yet.
The company also plans on piloting a third-party data provider who can track digital behaviors and topic searches from the account level — then sync with its automation system.
"If that person is in our database, it will trigger the relevant topic campaign," Ballard said. "If that person doesn't exist in our database, then we partner with our data provider to market to that name for us until the contact becomes active."
Forrest Leighton, VP of Marketing for Marcom Central, a B2B marketing asset management company, said he is about to run an ABM test as part of his company's predictive lead gen strategy. "We're architecting how we're going to do that right now," he said.
Raab said the predictive analytics space should continue to grow as vendors expand their own data and acquire additional data sets. He said predictive is "just used everywhere," citing scoring, customer success, general applications of machine intelligence, social monitoring, personalization, recommendation engines and programmatic ad buys as just some of the areas where predictive analytics can improve marketing results.
"There are not too many things in marketing that don't lend themselves to predictive," Raab said. "Predictive is like bacon. It just makes everything better."