Affinity Releases Alliances Solution To Rival LinkedIn With Streamlined Business Introductions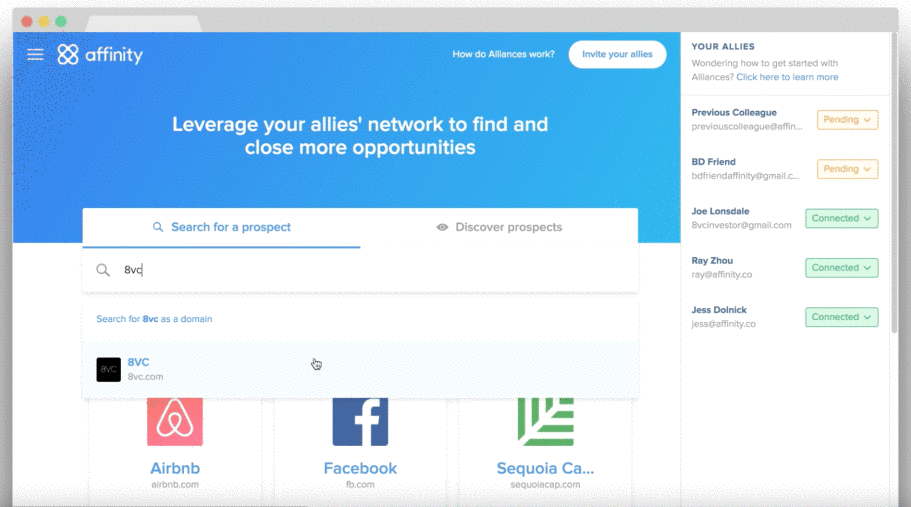 Affinity, a relationship intelligence platform, unveiled Alliances, a new solution designed to help marketing professionals expand their network with real-time insights of top connections to make introductions for prospective customers and companies.
The solution is positioned to use machine learning and natural language processing to analyze a user's relationship graph and identify new sources for introductions. Alliances aims to go beyond social media networks, such as LinkedIn, which can suggest new connections and referrals but do not show the strength of the relationship. It is also designed to let users connect with external contacts, such as advisors, partners, investors and mentors, and tap into their networks.
Features include:
Relationship Strength: identify contacts that have a good relationship with target prospects or organizations;
Prospect Lookup: search for a prospect and see relevant contacts who can provide an introduction. Contacts are ranked based on relevancy, including their latest email correspondence with the prospect, meeting and more;
Prospect Finder: upload your ICP by industry, job title, location or other criteria, and Alliances will suggest prospects to connect with; and
Prospect Import: import a list of prospects to see which of your contacts can make an introduction.
Alliances is integrated into the Affinity platform and available to all Affinity users.
"Existing social networks are great at showing you who else your contacts are connected to, but they can't tell you how strong those connections are and, therefore, they don't show the best sources of warm introductions," said Ray Zhou, Co-Founder of Affinity, in a statement to Demand Gen Report. "Alliances transforms the way professionals utilize their networks to make important introductions for networking and sales. It relies on the relationship data stored in emails and calendars to build a relationship graph that is more effective for professional networking than any other graph available today."