Bulldog Solutions And Full Circle CRM To Partner On Revenue Performance Solution For Salesforce.com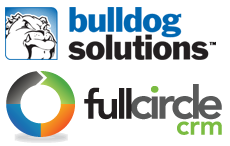 Bulldog Solutions and Full Circle CRM plan to jointly develop a Revenue Performance Solution for Salesforce.com that is expected to tie together the critical components needed to measure revenue performance.
The new offering will combine the Revenue Performance Improvement Maturity Model from Bulldog Solutions with Full Circle CRM, Salesforce.com and other popular marketing automation offerings.
"We're excited to partner with Full Circle CRM to help Salesforce customers improve revenue performance," said Bruce Brien, SVP of Solutions Development at Bulldog Solutions. "Full Circle CRM transforms Salesforce and marketing automation data to provide accurate, end-to-end sales and marketing funnel metrics and campaign ROI right inside Salesforce.
Revenue performance management is the Holy Grail for modern marketers, added Bonnie Crater, President and CEO of Full Circle CRM. "Our joint solution with Bulldog Solutions completes the quest and gives Salesforce.com customers the end-to-end solution they need to reach their revenue goals faster and more efficiently."
Bulldog Solutions examines audience, messaging, lead and sales processes, program execution, technology, content and data. Bulldog Solutions then works to develop a strategic plan to optimize the critical competencies that determine an effective, measurable strategy including campaign and program strategy, program architecture, marketing/measurement infrastructure, content creation, lead management, nurturing and analysis.
Full Circle CRM's Marketing Performance Management system provides marketers with a campaign and response lifecycle management application that tracks, manages and reports all generated responses. This response-based approach gives marketing executives insight into the key revenue analytics they need to optimize their marketing portfolio and drive more demand.