Curata Debuts Data-Driven Content Marketing Platform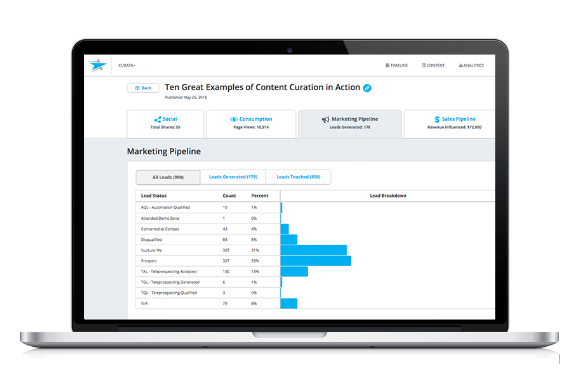 Content curation software provider Curata announced it has developed a content marketing platform designed to enable marketers to plan, manage and measure content's impact throughout the marketing and sales funnel.
Called Curata CMP, the solution blends analytics with an editorial calendar to help organizations streamline their content supply chain, keep collaborators on the same page and incorporate data-driven insights into the production process to help plan and execute multichannel content programs, the company said.
The platform integrates with technologies such as Google Analytics, Marketo, Eloqua, Pardot and Salesforce, enabling users to gain insight into the revenue generated by individual pieces of content, according to Curata.
"Today, 80% of a customer's buying decision happens before they even interact with sales, primarily by consuming ungated content most marketers simply can't measure," said Pawan Deshpande, Co-Founder and CEO of Curata, in a statement. "But this blind spot is precisely where the majority of marketing budgets are spent. Curata CMP is the only software that unearths this information, allowing businesses to know exactly which content works, which doesn't and why."