Sparked By Google Changes, B2B Marketers Focus On Mobile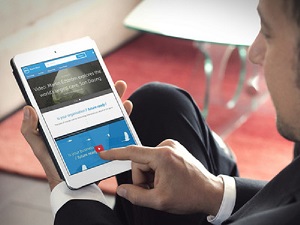 Mobile devices are rapidly becoming the first screen many B2B buyers use to conduct research and browse the web. A majority (82%) of respondents to Demand Gen Report's 2015 Content Preferences Survey said they required mobile-optimized content to access on tablets or mobile devices. In addition, 52% of B2B customers are using smartphones to research products for their businesses, according Online and Mobile Are Transforming B2B Commerce, a study published by Forrester and hybris software.
In a recent blog post, Google announced that mobile-friendly websites will get higher rankings in search results, making itimperative for B2B marketers to solidify their mobile strategy.
Google's updates and the shift in platforms for research and viewing content have spurred leading-edge B2B marketers to make headway when it comes to optimizing their content and demand generation efforts for mobile.
Some examples include:
Dell's Power More content platform, which provides customized content to technology decision-makers optimized for mobile devices.
Emerson Electric Co., which has launched numerous mobile apps and mobile optimized experiences for its businesses, ranging from an iPad app called Gateway to Emerson, to apps for Emerson Climate Technologies.
FedEx Corp., which has an iPad app for its Access Magazine, providing thought leadership on transportation and technology.
"In many countries, including the U.S., more Google searches take place on mobile devices than on computers, and that means B2B demand generation content must be mobile friendly," said Lee Odden, CEO of TopRank Online Marketing,
"In North America, there is an increased awareness toward creating responsive web pages, as well as optimizing emails for smartphones and tablets," said Shawn Desouza, Managing Partner at Desouza and Associates, a marketing consultancy. "I'd say that this push started in 2014 and is peaking in 2015, where it seems to be the mandate in almost every marketing department I've interacted with. In a long and complex buying cycle, mobile plays a key role as a means to engage and interact without being intrusive."
While most B2B firms have been practicing content marketing for years, they don't necessarily have the technology and tools in place to deliver a mobile experience. The State of B2B Content Marketing 2015 report from Regalix revealednearly 80% of B2B marketers do not have an exclusive content strategy for mobile. Only one-third of marketers had incorporated mobile as part of their content distribution plan at all, according to the findings.
Start With Responsive Website Design
At a minimum, B2B marketers need to ensure their websites are optimized for mobile experiences, observers noted. "Whether the site is simply responsive and adaptable across devices, a dedicated mobile site is created or an app, B2B marketers should learn their customers' preferences for mobile content discovery and consumption," Odden said.
B2B marketers can also leverage mobile to build awareness, trust and credibility. "Think short formats, links to third-party articles and interactive content," said Matt Heinz, President of marketing consultancy Heinz Marketing.
B2B marketers should ensure that their video content is also viewable on mobile, because61% of B2B users watch work-related videos on their mobile video, according to the IDG Global Mobile 2014 Survey. "Some video formats and hosting platforms only work on desktops, so marketers need to make sure video content is mobile friendly," Odden noted.
In addition to optimizing their websites for mobile, progressive B2B marketers are using mobile-friendly templates for their email marketing. "This has been a fairly rapid shift over the last three years," said Ajay Kapur, CEO and Founder of Moovweb, a mobile optimization platform provider. "We've also seen a lot of curiosity about using Twitter card formats as a way to generate B2B demand on mobile because they can have built-in contact collection."
B2B marketers are moving toward more comprehensive tracking of actions and opportunities via mobile devices — including click-to-call, video views, and other action-oriented elements — to establish impact of online marketing initiatives, said Derek Edmond, Managing Partner of KoMarketing Associates, a B2B online marketing agency.
"For example, the used equipment division of John Deere, MachineFinder.com, has transitioned their entire online experience to one that is mobile friendly," Edmond said. "While the main functionality is for users to view and research used agricultural equipment, they can also contact dealers, email information and search based on location."
Create Mobile-Friendly Landing Pages
As browsing increasingly takes place on mobile, marketers can use a variety of tactics to improve the mobile experience and increase conversion rates. "For example, searchers can be sent to device-specific landing pages," said Andrew Nguyen, B2B Content Manager at Bizible, a provider of marketing attribution software."This means marketers can send mobile searchers to landing pages that don't include large images or videos."
Marketing automation platforms are beginning to accommodate responsive landing pages for lead capture forms. Marketo, for example, released a responsive landing page template earlier this year.
"This means a better mobile experience on pages with form fields, which are critical for B2B marketers," said Ray Cheng, VP of Marketing for Contently, a content marketing and analytics platform vendor. "No website visitor should have to 'pinch to zoom' to do something as simple as fill in a form."
B2B buyers are more likely to view content and interact on social media from their mobile devices, while they will save tasks such as writing longer emails until they get back to the office. "Landing pages and forms have to be mobile friendly, because if I'm on my mobile when I get a promotional email with a piece of content that I want to download, I'm less likely to remember that later when I get back to my desk," said David Lewis, Founder and CEO of DemandGen International.
B2B marketers should use mobile to earn attention that translates into value for the B2B buyer, Heinz said. "Making your web site mobile-responsive is a great start, but if you can get yourself into micro-moments with your prospects via mobile, you're in the game and probably ahead of your competition."