The Five Stages of Maturity In Customer-Centric Revenue Operations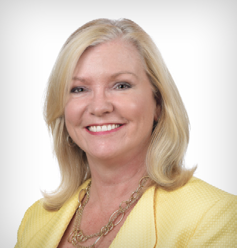 Something very complex and wonderful is happening in B2B marketing organizations. It is a transformation of legacy tech strategies, Go-To-Market (GTM) focus and structures that is embracing a customer-driven digital world and finding new ways to grow revenue through a Revenue Operations (RevOps) framework. Companies who do this with excellence will outperform their competition in terms of growth, profit, customer acquisition and retention. Companies who figure out how to develop a RevOps capability will gain competitive advantage. For example, I recently interviewed Morgan Collins of Phunware, Inese Pumpure of CloudLock and Alex Simoes of CAKE — all RevOps leaders who are driving double and triple digit growth.
In the RevOps maturity model, tech strategy refers to how a company is addressing their martech strategy. GTM focus indicates a product or customer focus and structure specifies if the key responsibility lies in a functional or cross-functional structure. The first four stages of the model describe the rise of a full marketing operations (MO) capability and the fifth stage encompasses a combined sales and marketing operations strategy. Only at this point can a true RevOps capability begin to emerge. Let's look at what happens at each stage of maturity in a RevOps model.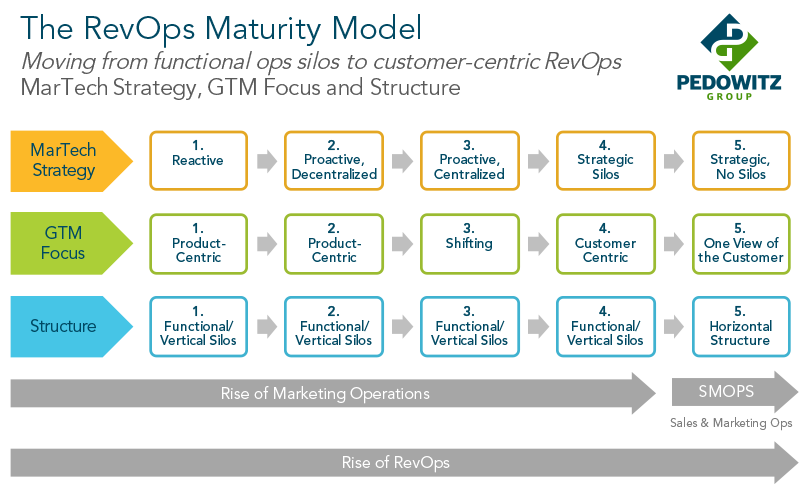 Stage 1: "OMG, Technology, Really?"
Stage One is the first step in a marketing operations (MO) capability, which I call the OMG stage. At this point of maturity, MO is an ad-hoc response to the tsunami of technology and change. Disparate groups are preforming uncoordinated MO tasks with no central vision or leadership. It is also a reactive effort to show the results of marketing campaigns, investment in core technology and revenue results. This stage typically begins with the use of a marketing automation platform and the addition of a team member as technology specialist. Other MO skills may be borrowed from other parts of the company and may include data, technology and integration knowledge, analytics and reporting. No plan or roadmap for the marketecture stack and data exists.
With this martech strategy in place, the GTM focus is typically still product-centric and tasks are performed in silos (think marketing vs. sales vs. IT) with big walls in between.
Stage 2: "Hey, Can Anybody On Our Team Do This Stuff?"
At this stage there is acknowledgment of the need to develop an MO capability but there is no full commitment or budget. This stage typically begins with a lower level MO manager working to build a small team to optimize various marketing technology investments and to become more efficient and effective in how technology supports marketing. Some best practices emerge and foundational reporting is created. From a marketecture perspective, there is a basic practice around selection, implementation and integration of systems. Data projects include data hygiene and basic analysis and reporting.
With this martech strategy in play, the focus is still product-centric and tasks are just beginning to become centralized in the marketing function.
Stage 3: "We've Got This And We Don't Need IT"
Acknowledgement of the need for an MO function has now morphed into an operational imperative to help drive marketing as an economic engine. There is now commitment to a budget and a formal function. The MO group leader is more strategic and performance is tied to financial outcomes of marketing. Broader responsibilities include campaign optimization, data analysis and insights, and working more broadly across key stakeholder groups such as product marketing, finance and sales. Efficiency and effectiveness in driving revenue is the mantra. At this stage, MO has developed a sophisticated and forward-looking marketecture plan and key activities include integration and optimization. Sophisticated insights from data and reporting is widely available.
With this martech strategy in play, the shift away from product focus to customer focus is in full swing, but marketing operations is still in a functional silo. This continues to create problems.
Stage 4: "We Think We Know The Customer"
At this stage, the MO function is a source of data and insights for key leaders to make business decisions. The voice of the customer through data lives here, and the process of gathering and sharing prospect and customer insights is credible and key to decision making at all levels of the organization.
Marketecture is fully integrated and optimized as much as possible within the still existing functional silos. Business insights from data is available 24/7, but may suffer from lack of functional integration.
With this martech strategy in place, customer focus is not central, but functional silos are still in place.
Stage 5: "We Know The Customer And Can Show You The Money"
In Stage 5, the "SMOPS"—combined sales and marketing operations organization—is firmly in place and may even include other functions such as customer success. Because of this horizontal structure based on the holistic customer life cycle, for the first time, many firms finally have that one view of the customer. With that one view across data and systems and the ability to respond to customer changes in real-time, the ability to optimize a RevOps function finally exists.
Yes, you can try to run RevOps in silos, but it will not be an optimized function. The charge for organizations today is to use SMOPS and RevOps capabilities to drastically improve digital operations and enhance the customer journey. What an exciting time!
Three Actions To Accelerate Transformation
This formula of martech strategy, GTM focus and structure is a simplistic way to look at a complex set of dynamics. Here are three actions you can take:
Consider where you are in each stage of the RevOps maturity model across your current martech strategy, GTM focus and structures. Consider which area needs the most work so you can devote the needed resources to advance the journey.
Begin socializing with the end in mind. Even if you have not thought this far, begin the conversation. Companies are moving in this direction and for good reason—improved revenue at a lower cost and gaining competitive advantage.
Continue to educate yourself in this area. Read articles and case studies to increase your knowledge. This market is moving very fast, so get going!
Marketing leaders are operating in a dynamic business climate where advancements in technology are swift. Today, we have over 5,000 marketing technologies to help meet the needs of our increasingly demanding customer base. Pressure to perform has never been higher. The good news is that by combining strategy, skills and technology, we can become the customer-centric organization our customers expect, while hitting our revenue targets and growing the bottom line.
---
Debbie Qaqish is the Principal Partner and Chief Strategy Officer of The Pedowitz Group. She manages global client relationships and leads the firm's thought leadership initiatives. She has been helping B2B companies drive revenue growth for more than 35 years.