Forrester's B2B Summit Underscores Catalysts For Change, Future Of B2B Content
Featured
More than 2,000 B2B practitioners arrived in Austin, TX for Forrester's annual B2B Summit to empower their strategies, fuel the revenue engine and move their businesses forward. With more than 1,000 additional attendees tuning in to the digital experience, B2B Summit North America featured more than 110 role-based sessions, analyst presentations and keynotes, a stacked Marketplace of martech vendors and endless face-to-face networking interactions.
This year's theme — "Align. Advance. Accelerate" — was prominent throughout the keynotes and breakouts from May 2-4, 2022, empowering attendees to gain insights for smarter decision-making, alignment, change and growth for continued success in the new world of B2B marketing and sales. Specific keynotes included:
"Loosening The Status Quo And Overcoming Inertia: Become An Effective Change Catalyst";
"Time Travel And Transformation: The Future Of B2B Content";
"Invest Shrewdly In Customer Obsession"; and
"Unlocking Growth And Creativity: Marketing In An Insights World."
The Demand Gen Report team sat front row at the keynotes, breakout sessions and case study sessions to soak in all the tips, tricks and future-looking insights Summit had to offer.
Challenging The Status Quo By Becoming A Change Catalyst
The entire world experienced massive change in 2020, and two years later, we are still adopting new ways of thinking, new ideas and new values. The B2B industry was no exception. Change can be a positive thing as it determines and fuels authority. It can be big, and it can be small — and everyone can instigate it.
Forrester's Meta Karagianni, VP, Research Director, and Peter Ostrow, VP, Research Director, introduced one of Summit's big ideas —
being a catalyst for change
— to the audience during their Monday morning keynote, "Loosening The Status Quo And Overcoming Inertia: Become An Effective Change Catalyst."
"For some of us, challenging well-established norms and behaviors comes naturally," said Karagianni. "But for most of us, this is a muscle we need to develop and nurture over time. Now, of course, different people play different roles in driving organizational change. But the fact is, we all have the potential to be effective change catalysts."
According to Karagianni and Ostrow, a "change catalyst" is a person who instigates an idea and precipitates the change.
"Change catalysts take a stand with conviction to propose a change for effect," said Karagianni. "They demonstrate courage, going against well-established norms and ways of thinking. They know that change takes time. So, to demonstrate courage and commitment, to bring the possibility into reality at the right time, change catalysts take time to express their ideas with clout and they find creative ways to connect their ideas with their audience."
After interviewing executives, managers, individual contributors and other change catalysts in the space, the duo uncovered four key traits one must adopt to be an effective change catalyst:
Conviction
Clarity
Courage
Creativity
With these traits in mind, Karagianni and Ostrow shared four hacks to bring practitioners closer to becoming a change catalyst.
Open the heart first: Use appropriate approaches to get your audience to connect emotionally with your idea. Experience the problem or opportunity and visualize the desired state.

"Take the time to think what it will take for you — and for your audience — to feel, experience and visualize the change you want to propose," said Karagianni. "But ultimately, be intentional in your efforts to open the heart first."
Inspire others: Be maniacally audience-centric. Change catalysts uncover the connections to customers, so talk about your idea, act on it and advance it. Build connections to what really matters.

"Our second hack is all about inspiring others to think about not so much the who, but about the what," said Karagianni. "...Change catalysts work to show how their idea may impact customers; how their idea may impact employees, their motivation, their engagement; and how their idea may impact owners and shareholders or a combination of all of that."
Become a force multiplier: Empower the transition from idea to movement. Ensure your idea is not too narrow. Proactively bring together multiple perspectives and change the narrative.

"Every time we have a new research idea, we deliberately bring ideas from different disciplines together to work on the idea," said Karagianni. "Change catalysts also engage actively when they are with others."
Challenge the way you seek and see things: Embrace the continuous loop of connection and accountability; connect with yourself and connect with others with intention. Hold yourself accountable.

"At Forrester, we embrace the mood elevator," said Ostrow. "We're riding the elevator up and probably down and sometimes many trips up and down during the course of any given day. Well, if you have a big decision to make, don't make it if you're pretty low on that elevator. Because if you have to make a big life decision or a big business decision or have a great idea, and it's inspired from a place of frustration or anger, that's not going to fly. If you're in a mid to high level on the mood elevator, you'll have a much better chance of articulating and conveying that idea to others. Because once you connect with yourself, then you can actually connect with everybody else.
Creating 'The Content Engine Of The Future'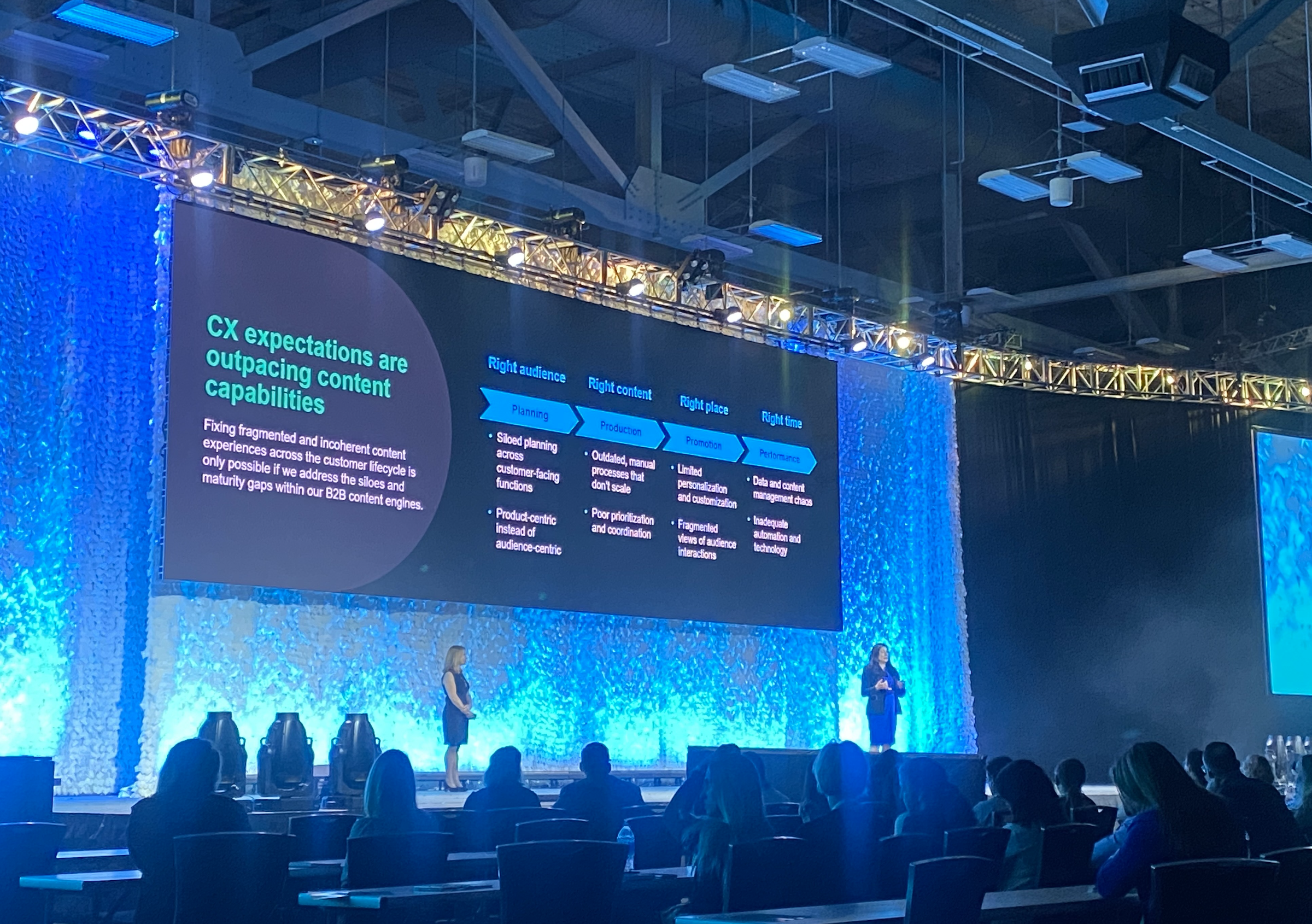 Capitalizing on the "Advance" pillar were Forrester's Christine Polewarczyk, VP, Research Director and Phyllis Davidson, VP, Principal Analyst, in their keynote session, "Time Travel And Transformation: The Future Of B2B Content."
The experts explained that in the current B2B environment, customer experiences are outpacing content capabilities due to common challenges such as siloed planning and a product-centric mentality, instead of an audience-centric approach. In addition to the poor prioritization and limited personalization and customization, the current environment doesn't engender a cohesive content experience.
"The content experience is broken because we don't have proper alignment within the functions that contribute to it," explained Polewarczyk. "Our content engines aren't able to keep up with CX expectations today, because of the issues that we have from a maturity perspective."
A live audience poll conducted during the keynote revealed that 60% of attendees indicated their biggest challenge in delivering that cohesive content experience was due to a disconnected and disjointed audience. To help brands create their "content engine of the future," Davidson and Polewarczyk explained the four core functions:
Providing highly contextualized experiences that truly meet customers' wants and needs by creating and providing real-time, dynamic and responsive assets;
Embedding innate content intelligence in the customer experience data model, which should include 360-degree insights and real-time analytics; and work on capturing and calculating ROI; and
Redefining alignment models to create nonlinear teams that combine all aspects of customer-experience-facing functions through the creation of enterprise-wide content centers and redefinition of content roles and responsibilities; and
Enhancing their relationship with technology to create seamless, autonomous processes that promote aligned and coordinated customer experience orchestration.
"The smartest minds in our organizations will work together to create the content engine of the future," explained Davidson. "As part of that, as we are training machines, they are also going to start training us and, at some point, we will reach a level of sophistication where we will have trained them so well that they will be giving us the predictive insights that we need to make smarter business decisions. They will also autonomously take all those structure components that we're creating within our content engines and start deciding on their own what content should be assembled in real-time and how it should be delivered."
While the idea of machines and technology taking over human responsibilities typically serves as the villainous underscore of most science fiction movies, the experts quickly reassured attendees that this takeover doesn't rule humans obsolete in marketing.
"Enhancing our relationship with technology doesn't mean that creativity, thought leadership and storytelling won't be important anymore — in fact, they'll become even more important content differentiators," explained Polewarcyzk. "That said, though, we are going to have to look at things a little bit differently. A content strategist who today may look at persona insights and engagement metrics will now have to be very adept at looking at much broader and deeper customer intelligence data and have that inform their thinking."
The experts closed out their session by emphasizing "there's no time like the present" to align, advance and accelerate customer obsession and experience optimization through a cross-functional commitment. At the end of the day, the "content engine of the future" just means combining the right audience, content, time and place with planning, performance, promotion and production.
Echoing throughout the conference hall was the idea that there's never been a more exciting time to be a B2B marketer — and we agree. With the technological innovations that are creating more streamlined, effective strategies and paradigm shifts that prioritize buyers' wants and needs over a company's bottom line, it seems B2B is finally about to break the "business to boring" stereotype.