Meet The Millennials: How Marketers Can Effectively Connect With The New B2B Buyer
Featured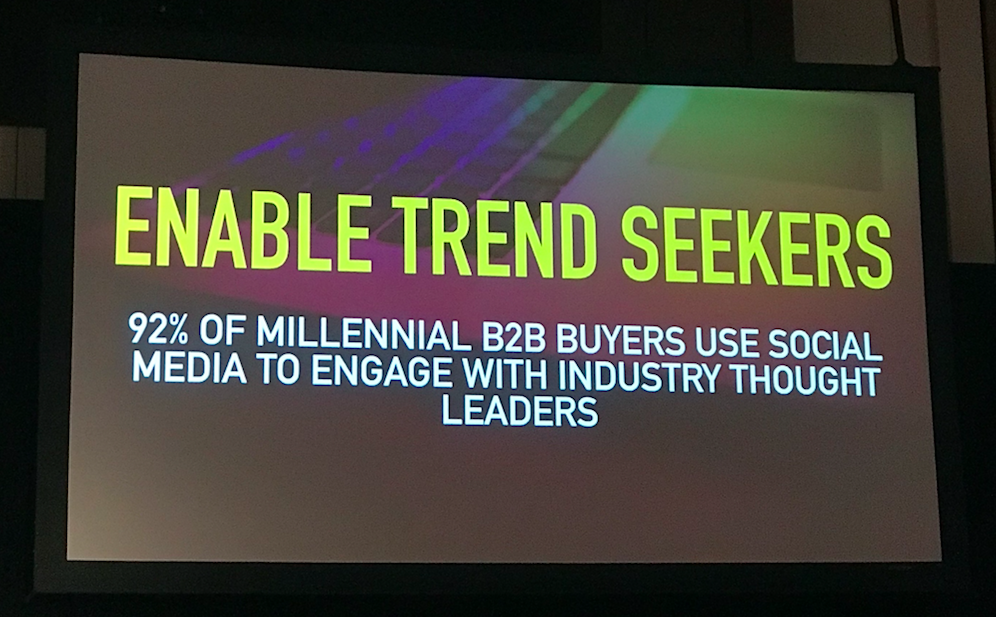 Some 82% of B2B buying committees now include at least one Millennial, according to Fanzo. To connect with this generation, marketers must understand that whether they are customers or employees, Millennials crave the same things: freedom, flexibility, authenticity and convenience.
However, "there's a disconnect between what we believe we're doing in marketing and culture building and what's actually happening," Fanzo said. For example, he noted, 84% of vendors say they aim to be honest about when their product might not be the best fit; however, just 36% of Millennial B2B buyers feel that vendors are forthcoming about that issue.
Transforming the conversation with Millennials will not only positively impact an organization's B2B marketing efforts today, but also prepare it for success in the future. Transparency is key to that transformation, but when it comes to this generation, Fanzo explained, transparency means more than simply being forthright. "No brand is perfect. We have to start owning that," said Fanzo, who notes that when brands attempt to portray themselves as perfect, Millennials perceive it as lying.
Making An Authentic Connection With Millennial Buyers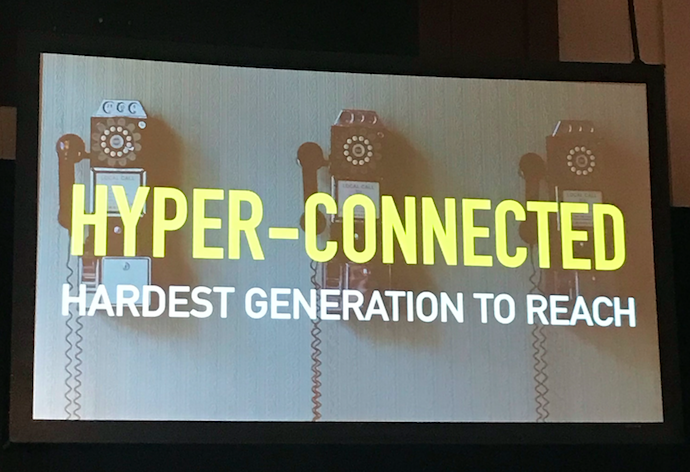 It's ironic that while millennials are in some ways the most connected generation, they're also the hardest to reach. How can B2B organizations get the attention of this generation? Here's what Fanzo recommended:
Start by actively listening — including listening to and understanding Millennials' nonverbal, digital cues. "When a Millennial buyer follows you on Instagram or connects on LinkedIn, these are touchpoints for us to measure and understand," Fanzo said.
Connect via thought leaders. "Millennial buyers connect and believe in the power of thought leadership," said Fanzo, noting that 92% of Millennial B2B buyers engage with thought leaders on social media. In fact, he said, thought leadership is more likely than job titles to build credibility with and influence Millennials. "Conveying thought leadership from executive to employee builds authenticity and trust and empowers connections," said Fanzo.
Tapping the power of influencers, including peers, is another key to connecting with Millennial buyers. "Sixty-one percent of Millennial buyer decisions are influenced by user reviews that they trust," Fanzo said. But B2B marketers shouldn't expect Millennials to go to their websites and search out testimonials — that's Boomer behavior. Instead, "bring the testimonials — the trusted user reviews — to the buyer," Fanzo suggested.
Making it easy for current customers to be fans of the brand is one of the fastest ways for marketers to embrace the Millennial mindset, Fanzo said. He urged marketers to see positive reviews as a starting point and go beyond them to create videos, webinars and social content featuring those customers.
Tell a credible story. "The idea of storytelling in marketing isn't new," Fanzo said. "The idea of telling stories in a way that connects is." Eighty-three percent of Millennial buyers find it important for vendors to have a credible story about how they help customers succeed, said Fanzo, who believes marketers can build credibility "by talking with Millennial customers to help them accomplish something, rather than at them."
One area ripe for improvement is "leading with emotion" in the stories marketers tell. Fanzo says interactive content can help by inspiring emotion, which captures and maintains Millennials' attention. Video — particularly episodic video, such as podcasts that attract listeners on a regular basis — is a promising area for B2B marketers to explore.
As marketers work to leverage influencers, Fanzo reminded them to include employees in those efforts. "Brands are great not because of their products but because of the people who work for them," he said. "In 2020, your employees' faces should be on your content. They should be part of the conversation, driving on-demand buyers' understanding of and connection to your brand."
Reaching Millennial Buyers Where They Live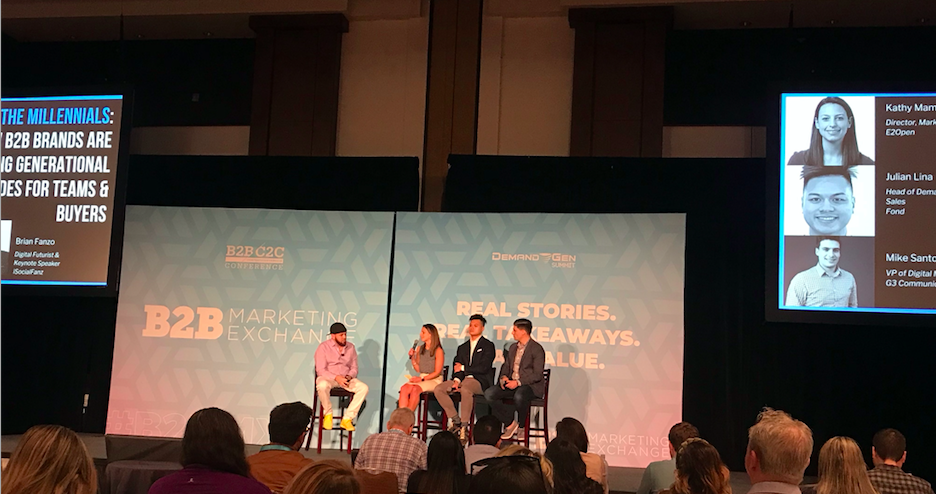 Concluding his presentation, Fanzo asked a panel of Millennial marketers to share their insights on how best to market to their generation. Describing the Millennial B2B buyer as an "on-demand" buyer, he noted that successfully marketing toward this audience requires reaching them wherever they are.
For example, since few Millennials work 9-to-5, there's more variability in terms of when they research solutions and how they go about the consideration process, said Julian Lina, Head of Demand Generation and Sales at Fond. "Conversational marketing can eliminate friction by helping Millennial buyers gather the information they need at any time," said Lina. "A well-organized and informative website also helps."
"It's all about what is easiest for the buyer," agreed Kathy Mammon, Director of Marketing at E2open. "How are you creating the best, most frictionless experience?"
Actively listening and tracking the content Millennial buyers have already engaged with can help, Mammon noted, by allowing marketers to tailor future interactions more effectively.
Lina, Mammon and Mike Santos, VP of Digital Marketing at G3 Communications, also discussed a growing trend: marketing to millennials with traditional marketing methods. "The pendulum is swinging from totally online to reallocating marketing to offline tactics," said Lina, who cited curated events and personalized mailers from vendors as effective tactics in getting his attention. Because younger Millennials (and Generation Z) grew up as digital natives, they often crave offline, face-to-face interactions.
Shrinking The Generation Gap
Ultimately, shrinking the gap between generations requires a shift in perspective on the part of marketers from thinking in terms of "us vs. them." Instead, said Fanzo, focus on what you can accomplish together that you can't do as individuals, and surround yourself with people who know what you don't know.
Because Millennial B2B buyers are relatively new to their role, marketers must walk a fine line to create content that educates them without talking down to them. "We don't need to tell customers what to do," said Fanzo. "We need to create 'swim lanes' to guide them where we want them to go." By doing so, marketers can give millennial buyers the freedom they demand while still shepherding them along the buyer's journey.