HubSpot Unveils Major Upgrades To Its Marketing Automation Platform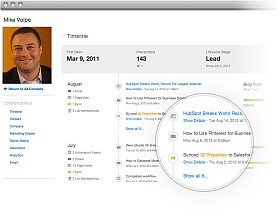 HubSpot today announced the release of HubSpot 3, the latest version of the company's flagship marketing automation platform. The update was officially unveiled during HubSpot's Inbound Marketing event, being held this week in Boston.
According to HubSpot Product Marketing Director Rick Burnes, the HubSpot 3 release includes 10 completely new or rebuilt components. These additions will be fully integrated with the platform's existing blogging software, CMS, SEO and marketing analytics tools, in addition to third-party tools available through the HubSpot marketplace.
Burnes stated that closer integration between components was a key goal of the new design. "Many of these [tasks] required hopping around between multiple applications," Burnes said during a HubSpot product announcement call held last Monday. "HubSpot has now pulled all of these tools together into a single, integrated suite."
According to HubSpot, the product's new Contacts Database, which was released to a small group of beta testers in June, represents the centerpiece of the company's updated platform. (Click on the thumbnail image above for a screenshot of the tool.) Customer profiles stored in the database are updated automatically, based on the customer's preferences and interactions with the company. The new contacts database also shows a complete history of an individual's social media interactions, form submissions, page views and other relevant data.
The result, Burnes said, is a contact-management system that "is structured like a Facebook timeline – it encourages interacting with contacts like people, not like database entries."
Other new or rebuilt features in HubSpot 3 include:
- Email Marketing: The HubSpot 3 email marketing system is more closely integrated with the contacts database; it is also linked with the system's workflow tools, personalization and other components.
- Workflows: HubSpot 3 uses a new process for setting up and automating workflows, including list segmentation, trigger-based activities and lead scoring rules.
- Landing Pages: The system allows marketers to create landing pages without using HTML; it supports easy A/B testing and the ability to integrate landing pages easily with email and social media campaigns.
- Smart Forms: HubSpot 3 will automatically hide form fields for which a lead has already supplied information – a capability that Burnes said has been one of the company's most-requested new features.
- Smart CTAs: The CTA tool, which is also integrated with the contacts database, supports the use of dynamic CTAs that reflect a prospect's interests and behavior.
- Social Media: Hubspot 3 integrates its social media management tools with the contacts database; marketers can view a lead's social activity, segment leads based on social media behavior, and manage Twitter and Facebook interactions from within a single interface.
- Mobile App Support: HubSpot has developed an iPhone app for the new system that allows marketers to view analytics reports, track key metrics and view lead/customer interactions.
- Salesforce Connector: According to HubSpot, the new system features a completely rebuilt, bi-directional Salesforce.com connector to keep leads synched between a user's marketing automation and sales systems.
According to HubSpot, some components of the HubSpot 3 release will be available immediately. Other components will be rolled out during the next several weeks. A more detailed rundown of HubSpot 3 features is also available on the company's YouTube page.