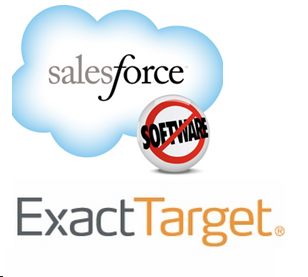 Salesforce.com — long thought to be in the market to acquire a marketing automation vendor since Oracle bought Eloqua — announced plans to purchase ExactTarget for about $2.5 billion. The move comes as a bit of a surprise to industry observers, who noted that Marketo's recent successful IPO positioned the company as an appealing acquisition target for Salesforce.com.
The transaction, which has been unanimously approved by the Boards of Directors of both companies, is expected to close late in Salesforce.com's fiscal second quarter, ending July 31. The acquisition is expected to increase total revenue by $120 to $125 million in fiscal year 2014.
There was no immediate word as to which ExactTarget executives will stay on or if ExactTarget's headquarters will remain in Indianapolis.
The combination of ExactTarget and Salesforce.com will increase the value proposition for customers of both companies, according to executives. They note that Salesforce.com customers will be able to extend their investments in sales, service and social marketing with access to the industry's most comprehensive marketing automation solution. ExactTarget's customer base will have access to social marketing capabilities, and will be able to leverage Salesforce.com's leading sales, service and platform solutions.
"The CMO is expected to spend more on technology than the CIO by 2017," said Marc Benioff , Chairman and CEO, Salesforce.com. "The addition of ExactTarget makes Salesforce the starting place for every company and puts Salesforce.com in the pole position to capture this opportunity."
Scott Dorsey , ExactTarget Chairman, CEO and Co-Founder, added: "ExactTarget's mission is to revolutionize how businesses connect with their consumers using data-driven digital marketing across all channels. Salesforce.com's tremendous strength in social marketing, along with its leadership position in sales and service, not only will accelerate this vision, but also provide our customers with a powerful, integrated CRM platform to transform their end-to-end customer experience."
Gartner estimates that by 2015 consumer technology companies will have switched one third of their traditional marketing budgets to digital, and CMOs will outspend CIOs on information technology by 2017.
"Marketing was the fastest growing CRM category in 2012, growing at 21% [more than four times the software industry forecast norm in 2012]," said Yvonne Genovese , Managing VP, Gartner's Marketing Leaders Research. "We believe this growth will continue and marketing will be the largest growing CRM category through 2017."