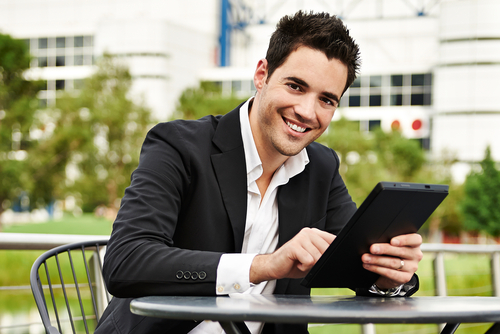 B2B marketers have long segmented their audiences by role, industry and company size, among other criteria. Some progressive B2B marketers are now adding "generation" to that mix as they look for ways to capture the attention of Millennial buyers as they rise through the ranks and move into decision-making roles.
Roughly one fifth (21%) of the participants in this year's Content Preferences Survey are part of the Millennial generation, and that number will continue to grow. The Millennial generation is gradually growing into the B2B buyer role, and marketers need to understand what motivates and entices buyers in this age bracket compared to their more seasoned brethren.
JOICO Engages Millennials With Visually Informative Content
JOICO, a hair products company that supplies hair salons and other salon professionals, is an organization that has witnessed the rapid growth of the Millennial workforce — as well as their growing involvement in the buying process. The company has embraced the digital nature of their new audience, and has developed a marketing strategy focused around Millennials' desire for information when and where they want it.
To successfully engage with this audience, marketers need to make sure that their social media posts align with every other team in the organization in order to supply a consistent message across all channels.
"Everything that you share via social media should align with everything that is going on internally within your company," said Patrick Bruner, Communications Project Manager at JOICO. "We're using the science of the business to create social content that supports our initiatives through all of our other channels."
Utilizing ON24's webcasting capabilities, JOICO is able to target an audience made up primarily of Millennial buyers. This webcasting tool was used mostly for training, helping educate their Millennial audience — as well as older audience members — on client expectations when they step into their salons.
One training webinar in particular, hosted by Minardi Salon co-owner Beth Minardi, exceeded expectations with:
Over 4,500 registrants;
Roughly 1,000 live attendees; and
More than 500 questions asked in the subsequent Q&A.
Visual content such as webinars (64%) and infographics (59%) are some of the most popular forms of content for Millennial buyers, while older generations prefer more thorough forms of content such as white papers (78%). Several factors are driving the popularity of more visual content, including increased adoption of mobility and social media, which make content more accessible and "snackable."
But making content easy to digest and share is only the first step. To engage Millennial buyers, marketers must adopt a more empathetic and relatable tone. If messaging is too complicated or stern, these buyers may be turned off from engaging with sales reps. Since the Millennial buyer desires a personal connection before moving further along the buying cycle, content has to be empathetic.
"In order to connect with your Millennial audience, you have to tell your content creators to write with empathy," said Corey Eridon, Senior Blog Editor and Manager at HubSpot. "Whether it's a shared experience or a shared goal between the Millennial buyers and your organization, all of these things contribute to your company's overarching value and mission. If you keep that mission in mind every time you create content, it will come through in small ways — and all that content will add up into a brand that the Millennial audience will appreciate."
Ultimately, it is important to analyze where your Millennial audience is engaging with your brand, and create content that communicates with them in the way that they want to communicate, according to Eridon.
"With the Millennial buyer, you have to understand that the format does matter," Eridon added. "Instagram and Pinterest are highly visual, so your company has to be ready to prepare the right content, for the right social network — at the right time."
Millennial Buyers Expect Speed, Simplicity
Ultimately, Millennials are looking for the connection between a brand's message and their specific wants and needs. If they do not believe in a company's message, they are less likely to select that company's solution as the ultimate answer.
"While these buyers are definitely different in how and where they use technology and in the channels they may use to gather information, the fundamentals of marketing to them don't change," said Erich Flynn, CEO of Treehouse Interactive. "Whether your message is delivered via Twitter, or paid search, if the brand promise or product positioning of your offering is poor, the channel used won't matter."
When it comes to B2B solutions, there are two common expectations that Millennial buyers have for the product/service that they are shopping for: Simplicity and speed. This year's Content Preferences survey shows that Millennial buyers prefer case studies (73%) over any other content type, proving that they are looking for real-life examples and results from using particular solutions.
"Millennials are not afraid of complex technology; they just want to find a simple solution to their problems," said Erika Goldwater, VP of Marketing at ANNUITAS. "They go in, assess the situation and figure out what needs to be done — in and out. Since the Millennial generation isn't afraid of technology, it's pretty easy for Millennial buyers to find a simplified answer to a complex problem."
The search for a quick, reliable solution also gives Millennial buyers more leeway when making the final decision on what solution is the best fit for their organization. Millennial buyers are more inclined to go through a trial-and-error process when shopping for a solution, compared to older generations who are more likely to work with what they currently have in order to improve efficiency.
Goldwater added: "This younger generation does not want to take a single path when making a buying decision — they don't see one option. That's why I think they adopt technology so easily; there are many different solutions out there, and Millennials are not afraid to try them. If it doesn't work, they will move onto the next possible solution."
Make The Connection
Since speed and efficiency is vital for any service or solution that a Millennial buyer is shopping for, they have become impatient and will no longer wait to be engaged by a sales rep.
Millennial buyers are leveraging the amount of information available via digital channels to educate themselves on B2B services and solutions rather than interacting with anyone on a sales team, according to Tom Masotto, VP of Product Marketing and Business Development at ON24.
"Much like the way shoppers go into the buying process for a new car, B2B Millennial buyers have adopted a self-education process when it comes to their buying behavior," Masotto said. "With the amount of information that's available digitally, Millennial buyers don't interact with sales reps until they have already made their decision."
Of all the available channels marketers can utilize to engage prospective buyers, social media has become the most effective. The constant connection that is associated with social media — especially when connected through mobile devices — makes it the suitable choice for Millennial buyers to quickly obtain information from several sources.