Customer Advocacy Marketing—Make It About Them, Not About You
Do you want to be successful in your B2B marketing strategies? Put your customer at the forefront. That was the recurring theme at the 2017 B2B Marketing Exchange in Scottsdale, Ariz.
Marketers would be wise to break away from their "what's in it for me?" pattern in marketing planning and focus more on the folks they're servicing—potential buyers, experts said. Then, once buyers are customers, use that same thinking to turn them from loyalists into advocates.
"Your fanatic customers … represent an untapped opportunity, untapped value, to take these diamonds and let their voices be heard," said Laura Ramos (pictured above), VP & Principal Analyst at Forrester Research, during her session, titled: Customer Advocacy & Account-Based Strategies. "The customer experience is not only useful and efficient, but if you make it delightful, you stand to have a competitive advantage against other companies in your market."
Additionally, while most marketers tend to focus on getting a new customer onboard, it's turning a loyal customer into an advocate where the real ROI lies, according to Tim Riesterer (pictured here), Chief Strategy & Research Officer at Corporate Visions, during his keynote address titled: Why Change, Why Stay?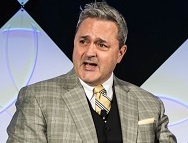 "That's where you're going to start making the money," he said. "All of the time, effort and money you put into the change in the message and the change effort in the acquisition of customer really starts to come back in that first renewal."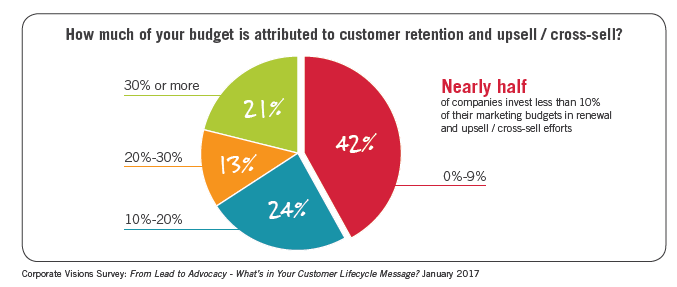 "All the things that we can do under this big umbrella of customer advocate marketing really play an important role in driving the life cycle of your existing customers and the prospects who could become your customers forward," Ramos said, adding that these activities can also work well within an account-based strategy.
According to a study conducted by Forrester, 60% of marketers said they plan to increase account penetration, cross-sell and upsell; and 59% said they intend to deepen their relationships with existing, critical customers to ensure retention, loyalty and satisfaction. While this is good news, the problem is that only 15% of those polled said they were actually able to use account-based marketing (ABM) to increase their references and other forms of advocacy. Nevertheless, these results show a shift towards being more customer centric.
Ramos said there are four top ways that advocacy delivers account-based marketing wins:
Gathering internal intelligence—The customers are happy with you, you've made them successful, let's tell the story how they've become successful.
Helping sales land prize fish—Help salespeople land the big deals.
Onboarding and sharing best practices—Account-specific engagement will give marketing more ownership over that close customer experience, and therefore initiate new customer communications for the company.
Getting a friend involved—Get your advocates to get others involved with you.
Forrester predicts that advocate marketing will figure prominently in one third of ABM programs launched in 2017.
"If you keep the focus on them in the program, and not on what's in it for you, and they benefit first, this is what happens over time—you get more benefit," Ramos concluded. "So, if you're thinking about ABM and you're looking how to stem from your relationship with your customers—make advocacy not your wallet share, but your key account-based goal."